Midday Stock Roundup
Friday, March 22, 2013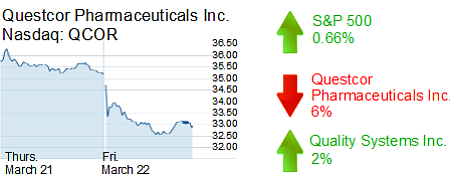 The S&P 500 rose 0.66% to 1,555.93 in afternoon trading Friday.
The Dow Jones Industrial Average was up 0.59% to 14,506.60, while the Nasdaq was up 0.64% to 3,243.20.
The yield on a 10-year treasury bond fell 0.47% to 1.92%.
The price of gold was off 0.40% to $1,607.40 per ounce.
Shares of Anaheim drug maker Questcor Pharmaceuticals Inc. were off about 6% to $33.08 after steadily rising about 11% before Friday. Questcor had a recent market value of $1.92 billion.
Newport Beach patent licensor Acacia Research Corp. fell about 5% to $28.72 after closing up more than 5% on Thursday on the announcement of settlement agreements with Micron Technology Inc. and some of its subsidiaries. Acacia had a recent market value of $1.42 billion.
Shares of Irvine healthcare software maker Quality Systems Inc. rose about 2% to $18.17 for a market value of $1.08 billion.