Midday Stock Roundup
Monday, January 28, 2013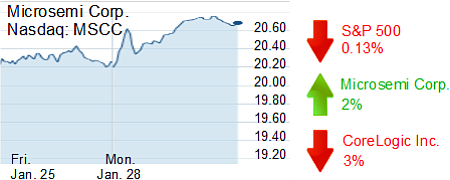 The S&P 500 fell 0.13% to 1,501 in midday trading Monday.
The Dow Jones Industrial Average was off 0.08% to 13,885, while the Nasdaq was up 0.22% to 3,157.
The yield on a 10-year treasury bond rose 1.64% to 1.98%.
The price of gold fell 0.16% to $1,654 per ounce.
Shares of Aliso Viejo-based chipmaker Microsemi Corp. were up about 2% to $21 for a market value of $1.8 billion.
Irvine-based CoreLogic Inc. was off about 3% to $26 for a market value of $2.6 billion.
Shares of Santa Ana-based First American Financial Corp. fell about 2% to $23 for a market value of $2.5 billion.
Santa Ana-based Powerwave Technologies Inc. plunged 74% to $0.08 for a market value of $2.6 million. The company, which designs and manufacturers wireless communication equipment filed for Chapter 11 bankruptcy Monday.