Midday Stock Roundup
Wednesday, January 23, 2013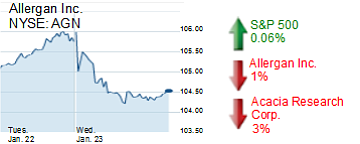 The S&P 500 rose 0.06% to 1,494.
The Dow Jones Industrial Average was up 0.49% to 13,780, while the Nasdaq was up 0.33% to 3,154.
The yield on a 10-year treasury bond was off 0.38% to 1.83%.
The price of gold was down 0.38% to $1,687 per ounce.
Shares of Irvine-based Allergan Inc. were off about 1% to $105 for a market value of $31.4 billion. The drug maker said Wednesday it will buy Map Pharmaceuticals Inc. for $958 million.
Newport Beach patent licensing company Acacia Research Corp. fell for the second day in a row by about 3% to $25 for a market value of $1.3 billion.
Shares of Irvine-based homebuilder Standard Pacific Corp. rose about 3% to $8, a day after announcing it bought 675 acres of Florida land where it plans to build 1,180 homes. Standard Pacific had a recent market value of $2.8 billion.