Midday Stock Roundup
Wednesday, February 13, 2013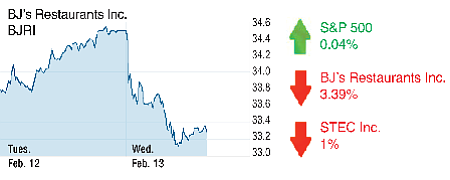 The S&P 500 was up .04% to 1,521 in afternoon trading Wednesday.
The Dow Jones Industrial Average was up 0.29% to 13,978, while the Nasdaq was up 0.17% to 3,192.
The yield on a 10-year bond rose 1.31% to 2.008%.
The price of gold was up 0.19% to $1,647 per ounce.
Shares of Huntington Beach-based restaurant chain BJ's Restaurants Inc. were down 3.39% to a market value of about $932 million. The restaurant sector was mixed, with shares of several national chains up slightly and Oak Brook, Ill.-based McDonald's Corp. down.
Shares of Santa Ana-based disk driver maker STEC Inc. were down slightly to a market value of about $250 million. The company recently offered to accept two directors nominated by dissident shareholders. San Francisco-based Balch Hill Capital LLC Potomac Capital Advisors in Boston have called for the entire seven-seat board to be replaced.