Midday Stock Roundup
Tuesday, February 5, 2013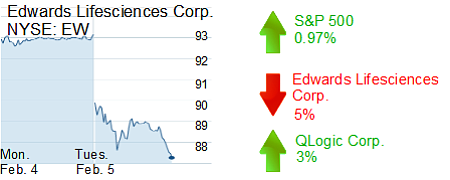 The S&P 500 rose 0.97% to 1,510 in midday trading Tuesday.
The Dow Jones Industrial Average was up 0.78% to 13,989, while the Nasdaq was up 1.14% to 3,167.
The yield on a 10-year treasury bond rose 1.72% to 2.01%.
The price of gold was off 0.20% to $1,673 per ounce.
Shares of Irvine heart valve maker Edwards Lifesciences Corp. were down about 5% to $89 for a market value of $10.2 billion. The drop came after yesterday's after-market report of fourth-quarter results that beat analyst expectations.
Edwards opened lower today after some analysts expressed concerns that healthcare providers stocking their inventories accounted for much of the 73% gain in sales of transcatheter valves in the fourth quarter. That stock-up could tamp down sales in the second half of this year, Wunderlich Securities analyst Greg Simpson wrote in a note.
Medical device makers were generally up in morning trading Tuesday.
Aliso Viejo networking equipment maker QLogic Corp. rose about 3% to $12 for a market value of $1 billion.
Shares of Anaheim drug maker Questcor Pharmaceuticals Inc. were up about 3% to $27 for a market value of $1.6 billion.
San Clemente-based medical device maker ICU Medical Inc. was up about 3% to $62, a day after the medical device maker announced better-than-expected fourth-quarter results. ICU had a recent market value of $906.8 million.
Shares of Irvine auto lender Consumer Portfolio Services Inc. jumped about 18% to $9, a day after the company reported fourth-quarter revenue and earnings growth. Consumer Portfolio Services had a recent market value of $164.6 million.