Midday Stock Roundup
Wednesday, February 20, 2013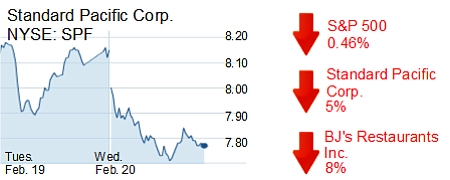 The S&P 500 fell 0.46% to 1,524 in midday trading Wednesday.
The Dow Jones Industrial Average was down 0.13% to 14,017, while the Nasdaq was down 0.63% to 3,193.
The yield on a 10-year treasury bond was off 0.44% to 2.02%.
The price of gold fell 1.55% to $1,579 per ounce.
Shares of Irvine homebuilder Standard Pacific Corp. were down for the second day in a row by about 5% to $8, after homebuilder Toll Brothers Inc. reported lower-than-expected earnings on Wednesday. Homebuilders were generally down on the news, despite January housing starts rising to a four-year high. Standard Pacific had a recent market value of $2.7 billion.
Huntington Beach-based BJ's Restaurants Inc. fell about 8% to $30 after the company said it would increase spending on marketing and promotions to offset a slowdown in business seen during the current quarter. The business update followed the company's fourth-quarter results, which were in line with consensus estimates. BJ's had a recent market value of $851.9 million
Kaiser Aluminum Corp. was down about 4% to $62, a day after reporting disappointing results for the fourth quarter. Kaiser Aluminum had a recent market value of $1.2 billion.