Midday Stock Roundup
Wednesday, April 3, 2013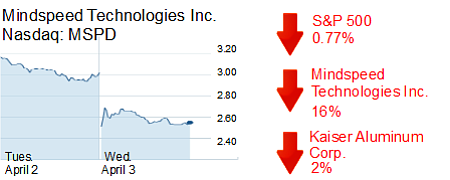 The S&P 500 fell 0.77% to 1,558.22 in midday trading Wednesday.
The Dow Jones Industrial Average was off 0.44% to 14,598.08, while the Nasdaq was down 0.82% to 3,228.30.
The yield on a 10-year treasury bond fell 2.42% to 1.82%.
The price of gold was off 1.44% to $1,553.20 per ounce.
Shares of Irvine homebuilder Standard Pacific Corp. were down about 4.5% to $7.88 for a market value of $2.73 billion. Homebuilders were generally down in afternoon trading Wednesday.
Shares of Newport Beach patent licensor Acacia Research Corp. rose about 4% to $30.21 for a market value of $1.5 billion. Acacia said Wednesday it reached a patent rights agreement with RPX Corp. and resolved pending litigation in separate settlement and license agreement with Supervalu Inc. earlier this week.
Shares of Aliso Viejo-based chipmaker Microsemi Corp. continued downward, with a 3% drop to $21.14 for a market value of $1.94 billion. Microsemi is down about 7.7% so far this week.
Foothill Ranch-based Kaiser Aluminum Corp. was down about 2% to $61.63. Kaiser Aluminum—with a recent market value of $1.18 billion—makes specialty aluminum products for the aerospace and engineering industries among others.

Shares of Irvine medical device maker Endologix Inc. were down about 3% to $15.43 for a market value of $969.88 million. Medical device companies were generally mixed in afternoon trading Wednesday.
Newport Beach chipmaker Mindspeed Technologies Inc. was down about 16% to $2.54, after the company lowered its second-quarter revenue guidance on slower rollout of 3G small-cell base stations. Mindspeed had a recent market value of $107.13 million.