Masimo Sues Apple, Seeks to Stop Smartwatch Imports
A LAWSUIT TO MONITOR
Monday, August 23, 2021
Share this article: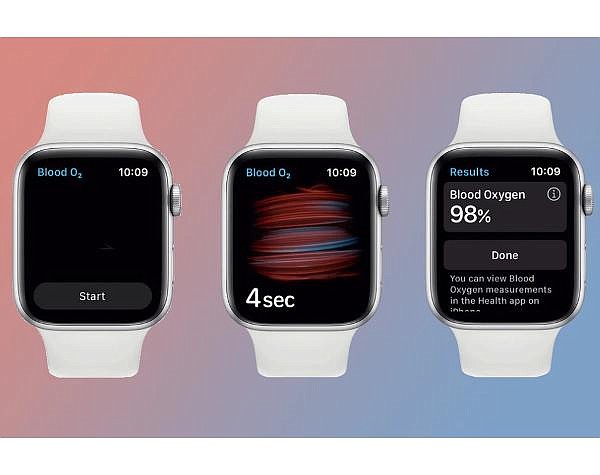 Joe Kiani used to revere Apple Inc.

That is, until the Cupertino tech giant allegedly stole intellectual property developed by Irvine's Masimo Corp., the medical technology firm he co-founded in 1989.

Now Orange County's fourth-most valuable public company (Nasdaq: MASI) is taking on the world's most valuable publicly traded company (Nasdaq: AAPL) in court.

Hundreds of millions of dollars, and perhaps more, are at stake in the case, which was initially filed last year.

"They seem to have no shame in taking IP, trade secrets or patents," Kiani said.

"Apple is thought of as this innovative company. Yet when you pull back the curtain, every innovation that they have supposedly created, they've seemed to have taken from somebody else and not rightfully most of the time. We're just one example."

Smoking Gun?

The legal quarrel is centered on Masimo's pulse oximetry products, devices that can precisely monitor a person's blood for oxygen saturation levels, which is useful for tracking a variety of health issues.

Kiani contends that Apple's technology for the smartwatches—which uses light transmitted through the body to gauge blood oxygen levels—was stolen from his company.

Furthermore, Masimo believes they have found a smoking gun, only recently unearthed, to back up their claims of intellectual property theft by Apple, whose Apple Watch 6 has apps that measure pulse rates and blood and oxygen levels.

Marcelo Lamego, a former employee who Kiani says was being groomed to become Masimo's chief technical officer, sent a letter in 2013 to Apple Chief Executive Tim Cook seeking a senior level executive position.

"I have developed several medical devices in the last 10 years and I am positively sure I could add a significant value to the Apple team, if I was given the chance of becoming part of it," Lamego wrote while he was still employed by Masimo. "If you agree, feel free to contact me anytime."

A top executive recruiter for Apple within hours contacted Lamego, who then worked at Apple for six months. His name eventually appeared on Apple patents.

Kiani said he was stunned when he found out about the letter earlier this year.

"What's crazy is that he wrote that letter to the CEO of Apple, Tim Cook, offering our secrets," Kiani told the Business Journal.

"The fact that Apple hired him—I don't get it," Kiani said. "If I got a letter like that from anybody in any company, I'd not only not hire him, I would send a warning to my team to be careful not to hire this guy."

Injunction Sought

Masimo is fighting Apple on several legal fronts.

In a separate legal action, Masimo in June filed a complaint asking the U.S. International Trade Commission to halt imports from China of the Apple Watch 6.

While Federal District Judge James V. Selna last September denied Masimo's request for a preliminary injunction against Apple in the initial case, he wrote that "the Court concludes that Plaintiffs are likely to succeed on the merits."

The recently unearthed email from the former Masimo executive would appear to only boost the chance of $15.2-billion valued Masimo's success in court against Apple, which has a $2.5 trillion market cap.

Masimo is not the only business that's been hurt in a similar manner by Apple, Kiani contends.

"One of the things that Apple does as the most powerful and richest company, when they like something, they don't work with the company, they take it," Kiani said.

Big Dividends?

Masimo is spending tens of millions of dollars on these two cases, as well as defending itself from Apple challenges of its existing patents.

The investment could pay big dividends.

A potential settlement, if reached, could result in Masimo receiving between $50 million and $300 million a year in royalties, according to estimates cited in a late June Bloomberg report.

Masimo last year topped $1.1 billion in revenue, an all-time high for the company.

There's been no indication that either party is looking to settle the case for the time being; Masimo's position is that it wants Apple's watches pulled from the U.S. market.

Winning Precedent

Kiani has won big legal battles before.  

In 2016, Royal Philips Electronics NV agreed to a $300 million partnership, after a lawsuit filed by Masimo regarding Philips' fingertip blood oxygen monitors.

Masimo also obtained $1 billion in damages and royalties from Medtronic PLC and predecessors in a lengthy legal fight that included an injunction against the sale of their product. The original settlement in 2006 helped paved the way for the Irvine firm to go public in 2007 at $17 a share. Its stock now trades around $280 a share.  

Irvine-based Knobbe Martens, which represented Masimo in its prior legal victories, is also the law firm in this case against Apple.

A trial is scheduled for later next year while the ITC case may take 18 months.

"I never enjoy litigation," Kiani said last week.  

"It's nerve-wracking. It's expensive. It's not what we do. But our whole company is here because of our patents. If we allow people to just take them, we could be hurt. We have no choice. We're ready for this fight."

An Apple spokesman didn't return a phone message nor an email seeking comment.

Revered Company

Kiani, who started his company in his Mission Viejo garage in 1989, now has 200 million patients annually using its monitoring technology, primarily in hospital settings. Masimo employs 885 of its more than 6,000 employees in Irvine.

The case began around 2013 when Apple executives called Masimo to inquire about its technology being applied to the tech giant's products.

"We got excited," Kiani recalled last week, during an interview at the company's headquarters. "I revered them. I thought they were a great company and was eager to work with them."

A few weeks after Kiani made a presentation at Apple, his chief medical officer, Michael O'Reilly, called to say Apple made him an offer he couldn't refuse, where his salary, bonuses and stock options were significantly increased.

O'Reilly's LinkedIn page says he now works for Apple's Health Special Projects division; neither Apple nor Stanford University, where he says he is a professor of anesthesiology, made O'Reilly available for comment.

Kiani said he then discovered Apple was making offers to other Masimo employees whose LinkedIn pages showed they had engineering degrees. Apple promised to stop poaching employees but didn't, eventually hiring 20 Masimo employees, Kiani said.

He believes Apple uses a strategy called "efficient infringement," where it's cheaper to infringe rather than buy companies they like, Kiani said.

"When most companies see something they like, they either license it or acquire it. What [Apple does] instead is use their image to attract their employees and pay them a lot more money than what the market normally pays."

Masimo, in court filings, said it didn't discover its trade secrets were being used until 2019, because Apple kept the patents hidden until they were approved.  

Future Focus

Both companies' CEOs have ambitious goals in delivering their health-focused products to more consumers.

Apple's Cook has stated that the Cupertino's company's greatest contribution to the world will ultimately be in health, and the company's health-related features in its smartwatch are among the most visible examples of its focus there.

Masimo's products have largely been used in hospital settings, but last year it rolled out products to monitor COVID-19 patients remotely. Kiani expects a similar at-home monitoring offering for opioid users to be well-received in the market.

Court documents indicate that Masimo has its own wireless wearable devices for the consumer market in development.

True Wearables

In his 2013 letter, Lamego told Cook that he was willing to help Apple overcome technical barriers in exchange for a senior level position.

"What I am sure Apple soon will realize is that medical, wellness and fitness technologies are very deceptive in the sense that they are easy to develop for products that work in most ( ~80%) users," Lamego wrote in the letter that was sent through a Stanford alumni email address.

"Getting the same technology to work in almost the entire population is a problem extremely more complex. This is the very reason most medical device startups become insolvent. Knowing Apple's reputation, I am sure you would not settle for even 99%, imagine then, 80%."

After six months at Apple, Lamego returned to Orange County where he started a monitoring device company called True Wearables, which is based in Rancho Santa Margarita.

Masimo has also filed lawsuits against True Wearables and was granted a motion for preliminary injunction in April.

Two messages left on True Wearables' answering machine seeking comment for this story weren't returned by press time.

The Fight
In his ruling last September, Judge Selna said, "The Court believes that Apple had reason to know that Lamego was under a duty to not reveal trade secrets."

"It's not always about the money," Kiani said of the case.

"To allow a corporate giant to just come and take what is not theirs is wrong. What happens to us affects every current and future inventor. If we don't stand up for what's right, what message are we sending the next young engineer that invents the next medical breakthrough? If we discourage innovation, how does that benefit anyone?"

The strength of the patent system in the U.S. "is the reason why we are here today and why our important innovations made it into the hands of clinicians," he said.