Midday Stock Roundup
Wednesday, January 29, 2020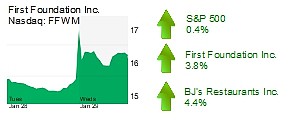 Markets were moderate as the Federal Reserve looked set to maintain interest rates at current levels today.
The S&P 500 was up 0.4% to 3,288.66; the Dow Jones Industrial Average rose 0.5% to 28,873.50; the Nasdaq ticked 0.4% higher to 9,310.99.
The yield on a 10-year Treasury bond dropped 1.5% to 1.62%.
The price of gold was flat at $1,569.
A barrel of oil was 0.5% lower to $53.22.
FINANCE
Irvine-based First Foundation Inc. rose 3.8% to $16.87 and a $753 million market cap. Yesterday the bank holding company and wealth adviser reported annual revenue 11% higher year-over-year to $212 million, earnings up 31% to $56 million, and it hiked its dividend 40%.
RESTAURANTS
BJ's Restaurants Inc. (Nasdaq: BJRI) in Huntington Beach was up 4.4% to $41.34 and a $793 million market cap. The casual dining chain is pushing its more healthful-menu items, dubbed EnLightened Entrees; shares are up 10% year-to-date and down 20% in the last year. It reports results next month.