Midday Stock Roundup
Wednesday, March 20, 2019
Share this article: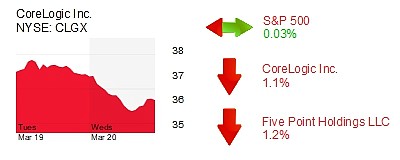 Markets initiated a rebound after the Federal Reserve indicated it won't raises rates again this year. The S&P 500, which was down 0.5% earlier in midday trading, rose to flat at 2,832.24.
The Dow Jones Industrial Average, which was down 0.7% earlier, was off 0.2% at 25,840.40.
The Nasdaq, which was off 0.3%, became positive with a 0.4% rise to 7,754.32.
The yield on a 10-year Treasury bond dropped 0.8% to 2.59%
The price of gold ticked up 0.1% to $1,308.
The price of oil rose 0.9% to $59.56 a barrel.
REAL ESTATE
Shares in OC homebuilders and developers also erased earlier declines.
Irvine-based TRI Pointe Group (TPH), down 2.4% earlier, was off 0.4% to $12.41 and a $1.8 billion market cap. Five Point Holdings LLC (FPH) in Aliso Viejo declined 1.2% to $7.19 and a $1 billion market cap. Newport Beach-based William Lyon Homes (WLH), off 2.3% earlier, fell 0.4% to $14.60 and a $530 million market cap. New Home Co. Inc. (NWHM), also in Aliso Viejo, fell 3.1% to $4.50 and an $89 million market cap.
Related companies also lost ground. Irvine real estate services and information provider CoreLogic Inc. (CLGX) dipped 1.1% to $36.13 and a $2.9 billion market cap. Tustin-based construction products distributor Foundation Building Materials (FBM) was lower by 3.2% to $9.92 and a $425 million market cap.
All these companies trade on the NYSE.