Business Journal Honors Five Entrepreneurs
Tuesday, March 12, 2019
Share this article: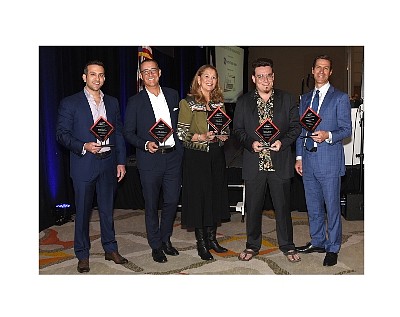 Members of Orange County's business community celebrated five winners at the Business Journal's 18th annual Excellence in Entrepreneurship Awards luncheon on Tuesday at Hotel Irvine.
The award "recognizes individuals who exemplify the American entrepreneurial spirit" and have built and sustained successful business ventures.
R.D. Olson Development founder and Chief Executive Bob Olson, the Business Journal's businessperson of the year, was the event's keynote speaker.
Selected from 92 nominees, the five honorees were:
Reza Jahangiri of American Advisors Group., a reverse mortgage lender company in Orange
Heidi Hendy of H. Hendy Associates, a Newport Beach-based architecture company
Darin Anderson of Salas O'Brien LLC, an engineering firm in Santa Ana
Joe Duran of United Capital Financial Advisors, a Newport Beach-based wealth management company
Palmer Luckey of Irvine Anduril Industries, a maker of artificial intelligence defense technology
Profiles of the winners will appear in the Business Journal's March 25 issue.