Knott's Berry Farm Notches Record Year
Friday, February 21, 2014
Share this article: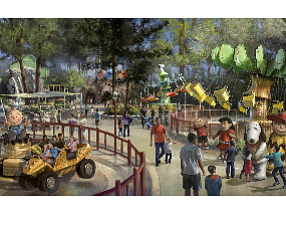 Buena Park amusement park Knott's Berry Farm along with its parent released record 2013 results.
Sandusky, Ohio-based Cedar Fair Entertainment Company said it had record 2013 revenue, up 6% from the year earlier, to $1.14 billion.
Net income for the year rose 5.5% to $108.2 million.
Cedar Fair owns 11 amusement parks, four water parks and five hotels.
The company doesn't break out individual park revenue or attendance.
However, Knott's Berry Farm was called out, along with Cedar Point in Ohio, as a top 2013 performer for its parent during a call with analysts on Thursday.
Knott's added three new rides last year with the creation of the Boardwalk area and also refurbished its Log Ride. The improvement projects helped bring record season pass sales, profit and attendance last year for the local amusement park, Cedar Fair Chief Executive Matt Ouimet said during the call.
Work on a redesign of its Camp Snoopy area for children last month. The revitalization includes three new rides. The area is expected to reopen in early summer.
Cedar Fair shares closed up less than 1% on Thursday to a market value of $2.94 billion.