Midday Stock Roundup
Thursday, May 9, 2013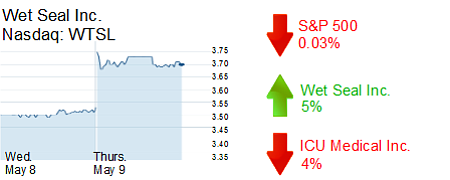 The S&P 500 fell 0.03% to 1,632.20 in midday trading Thursday.
The Dow Jones industrial average was up 0.16% to 15,128.77, while the Nasdaq was up 0.20% to 3,420.20.
The yield on a 10-year Treasury bond rose 1.76% to 1.79%.
The price of gold was off 0.53% to $1,466.10 per ounce.
HEALTHCARE
San Clemente-based ICU Medical Inc., maker of needleless intravenous connectors and other medical devices, fell back about 4% to $66.06 after closing up 11% on Wednesday amid reports that the company was exploring a possible sale. ICU Medical had a recent market value of $961.63 million.
RETAIL
Shares of Foothill Ranch-based Wet Seal Inc. rose about 5% to $3.70 after announcing revised guidance for the quarter ended May 4 that projects earnings in the range of flat to $888,593. That compares with original guidance projecting a loss in the range of $2.7 million to $5.3 million. Wet Seal had a recent market value of $331.83 million.
TECHNOLOGY
The technology sector was down on Thursday pushing shares of Irvine-based disk drive maker Western Digital Corp. down about 3% to $57.22 for a market value of $13.67 billion. Competitor Seagate Technology LLC in Cupertino was down about 5% to a market value of $14.43 billion
SERVICES
Newport Beach-based Collectors Universe Inc. shares were up about 7% to $12.85 for a market value of $109.17 million on record third-quarter revenue and operating income. Collectors Universe provides authentication and grading services on collectible items.