Midday Stock Roundup
Wednesday, May 1, 2013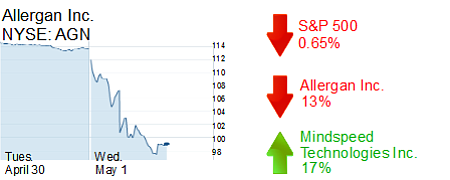 The S&P 500 fell 0.65% to 1,587.16 in afternoon trading Wednesday.
The Dow Jones industrial average was down 0.65% to 14,742.88, while the Nasdaq was off 0.75% to 3,303.71.
The yield on a 10-year Treasury bond fell 3.46% to 1.62%.
The price of gold was down 1.91% to $1,444.10 per ounce.
HEALTHCARE
Irvine drug maker Allergan Inc.'s shares slumped about 13% to $98.84 on its lowered full-year financial forecast. Allergan had a recent market value of $29.49 billion.

Shares of Irvine medical device maker Endologix Inc. fell about 5% to $14.25 after missing analyst estimates on its first-quarter profit. Endologix had a recent market value of $899.08 million.
Mission Viejo-based Ensign Group Inc. fell about 3% to $33.89, for a market value of $741.88 million. Ensign operates healthcare facilities, hospice companies and home health businesses and said today it acquired Omaha Nursing Center on undisclosed terms.
TECHNOLOGY
Newport Beach chipmaker Mindspeed Technologies Inc.'s shares surged 17% to $2.69 on news that the company hired Morgan Stanley to assist with the company's analysis of its "strategic alternatives." The company also reported a lower-than-expected loss for the March quarter. Mindspeed had a recent market value of $110.5 million.