Midday Stock Roundup
Tuesday, March 5, 2013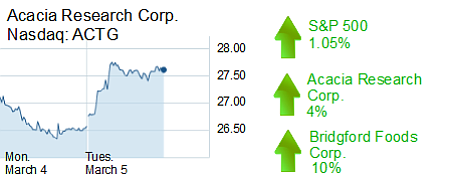 The S&P 500 rose 1.05% to 1,541.23 in afternoon trading Tuesday.
The Dow Jones Industrial Average was up 1% to 14,268.82, while the Nasdaq was up 1.25% to 3,221.91.
The yield on a 10-year treasury bond rose 1.12% to 1.90%.
The price of gold fell 0.04% to $1,571.40 per ounce.
Shares of Newport Beach-based patent licensing company Acacia Research Corp. were up about 4% to $27.59 and a market value of $1.33 billion. Acacia shares fell 4% on Monday, and were down about 11% over the past week, largely on concerns over a pending law that would require companies deemed "non-practicing entities" in the legal field to pay defendants' fees if they lose a patent infringement lawsuit. Today's rebound followed an article from investor website Seeking Alpha that said the law, called the Shield Act, won't likely affect Acacia's business.
Anaheim drug maker Questcor Pharmaceuticals Inc. was down about 4% to $31.13 for a market value of $1.83 billion. The company closed down 1.4% on Monday.
Lightly traded Bridgford Foods Corp. saw its shares rise about 10% to $8.65, with several other foodmakers seeing gains in midday trading Tuesday. Bridgford, which had a recent market value of $79.21 million, makes and distributes frozen and refrigerated foods.