Midday Stock Roundup
Tuesday, January 29, 2013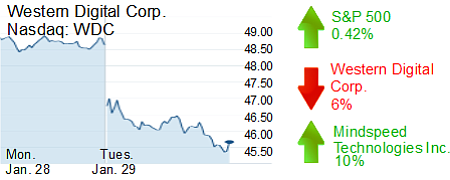 The S&P 500 was up 0.42% to 1,506 in midday trading Tuesday.
The Dow Jones Industrial Average was up 0.48% to 13,949, while the Nasdaq was off 0.13% to 3,150.
The yield on a 10-year treasury bond rose 0.71% to 1.99%.
The price of gold was up 0.38% to $1,659 per ounce.
Shares of Irvine-based disk drive maker Western Digital Corp. were off about 6% to $46, after rival Seagate Technology PLC of Cupertino provided third-quarter revenue guidance that fell below analyst expectations. Western Digital had a recent market value of $11.1 billion.
Irvine-based CoreLogic Inc. was down for the second day in a row by about 3% to $25 in afternoon trading for a market value of roughly $2.5 billion. CoreLogic closed down about 3.5% on Monday.
Shares of Newport Beach specialty chemicals maker American Vanguard Corp. were down about 3% to $33 for a market value of about $927 million.
Newport Beach chipmaker Mindspeed Technologies Inc. was up about 10% to $5, a day after reporting better-than-expected results for the first quarter. Mindspeed had a recent market value of nearly $199 million.