Strong Quarter for Western Digital
Wednesday, January 23, 2013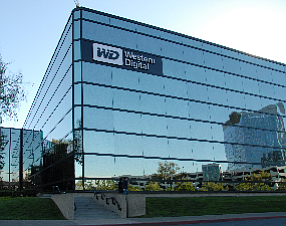 Irvine-based disk drive maker Western Digital Corp. on Wednesday reported December quarter earnings and revenue that beat Wall Street expectations.
The company recorded $3.8 billion in revenue in the recently ended quarter, up 90% from a year earlier and topping analyst estimates of $3.68 billion.
Net income topped $513 million in the December quarter, up 205% from a year ago.
Wall Street had expected net income of $443 million.
Western Digital's shares finished trading today about even, with a market value of about $11.5 billion.
Its quarterly report was released after the market closed.
The company said it sold 59.2 million hard drive units in the December quarter, up 108% from 28.5 million units shipped a year ago.
The gains were fueled by its recovery in Thailand, its manufacturing hub, and last year's $4.3 billion buy of
San Jose-based Hitachi Global Storage Technologies Ltd.
The acquisition brought the company key gains in corporate drives−a more lucrative segment that the consumer market.
Floods in Thailand in late 2011 forced Western Digital to shut down two of its plants there for months.

The company's disk drives go into computers, external storage devices, corporate networks and consumer electronics.
Western Digital earlier this week was pegged as a prime candidate to go private, according to a Wall Street analyst and former research director at the company.
The talk swelled Tuesday on the heels of Dell Inc. founder and Chief Executive Michael Dell's bid to take the world's third largest computer maker private.