Yokohama Plans $300M Plant in Mississippi
Tuesday, April 30, 2013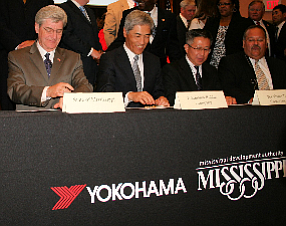 Fullerton-based tire manufacturer Yokohama Tire Corp. has signed a deal to build a $300 million plant in West Point, Miss., where it will employ about 500 workers and produce about one million tires a year for commercial trucks and buses.
Yokohama Tire is the North American manufacturing and marketing arm of Tokyo-based Yokohama Rubber Co. Ltd. Yokohama Rubber is among the largest tire companies globally, with about $5.71 billion in annual sales last year. The North American segment made up about 20% of the total, with $1.13 billion.
Construction of the Mississippi facility over 500 acres of land is expected to begin in September and run for about two years.