REAL ESTATE: SHUTDOWN SET AS NEW PIMCO HQ NEARS FINISH
Newport Center's Gateway Plaza to Go Dark
Saturday, April 13, 2013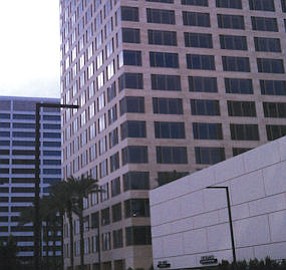 Irvine Company is getting ready for the opening of the first of two office towers in Newport Center by winding down operations at a second, older low-rise office complex a few blocks away.
Gateway Plaza, a six-building office project on the western edge of Newport Center, is expected to close by early next year, according to the Newport Beach-based developer.
The property, which opened in 1976, totals about 121,000 square feet.
The two-story buildings at Gateway Plaza, located on the 100 block of Newport Center Drive, count a roster of smaller-sized real estate, finance, consulting and other businesses as tenants who tend to lease less than 1,000 square feet each.
Brokerage data show that the largest tenant at the complex is locally based REO World Inc., an asset management company that leases close to 18,000 square feet at 170 Newport Center Drive.
Tenants said they've been given until the end of the year to find new space.
"Individual conversations with our Gateway customers have commenced, and we are working with them on a case-by-case basis," Irvine Co. spokesperson Mike Lyster said.
Gateway Plaza is expected to remain vacant once the existing tenants leave the complex.
Sources familiar with Irvine Co.'s operations have suggested that the buildings at the site could eventually be torn down to make way for additional retail space that complements the company's nearby Fashion Island shopping center.
There have been no indications by Irvine Co., or plans filed with Newport Beach's planning department, to suggest such a plan is currently in the cards.
"We are in the early stages of long-term planning for Gateway Plaza," Lyster said.
An agreement between Irvine Co. and the city of Newport Beach on office density limits in a multiblock area surrounding Fashion Island is the immediate reason behind the closure of Gateway Plaza.
Pimco
The developer currently has a pair of office towers under construction at Newport Center: a 380,000-square-foot building being built for Pacific Investment Management Co. at 650 Newport Center Drive, and a 300,000-square-foot building in the early stages of construction at 520 Newport Center Drive, next to Irvine Co.'s existing headquarters.
The 20-story headquarters being built for Pimco is expected to open early next year.
The addition of the two towers would put Irvine Co. beyond the office square-footage limit for the area. A closure of Gateway Plaza, along with some other spaces in Newport Center, would rectify that problem.
Prev Next