RETAIL: CITY EXPECTS $55M REVAMP TO MIRROR SURROUNDING "URBAN VILLAGE"
Laguna Hills Mall on Retail Makeover List
Saturday, December 1, 2012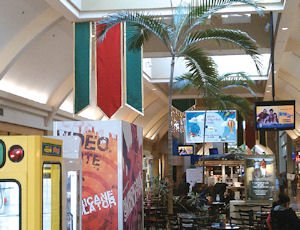 The largest project preparing to move ahead in the Urban Village is just down the street from the Laguna Hills Mall, where another older retail center, the Oakbrook Village Center, is slated for redevelopment in a few months.
The 30-year-old center, owned by Newport Beach-based Fritz Duda Co., counts about 200,000 square feet of space, and is anchored by a Marshalls and Trader Joe's.
489 Apartments
A plan approved by the city last month calls for nearly 150,000 square feet of the existing retail space to be demolished to make way for 489 apartments and 82,574 square feet of new retail space.
The project's cost is estimated at $35 million.
The project is set to move ahead in two phases. The first phase would begin in early 2013 and include the demolition of 82,730 square feet of retail space and development of 289 apartments, according to the city.
The revamped Oakbrook Village Center will be the first development of its type in Laguna Hills, according to the city.
Moulton La Paz
Redevelopment of another shopping center, the former Moulton La Paz Shopping Center in Laguna Hills, also is moving ahead.
The center's owner, Vintage Real Estate LLC of Los Angeles, plans to expand the roughly 60,000-square-foot shopping center by another 40,000 square feet. Construction is expected to begin in January.
Vintage recently paid about $2.9 million for a nearly 4-acre parcel of land next to the center—which is near the intersection of Moulton Parkway and La Paz Road—to accommodate the expansion, which will include The Fresh Market, a high-end European-style grocery store.
Prev Next