DEALS, DEPARTURES, RETIREMENTS CHANGE LOCAL LINEUP
2012 YEAR in Review
Saturday, December 1, 2012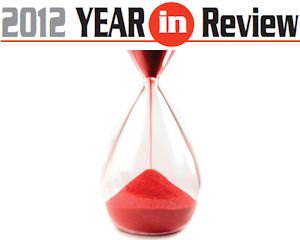 High-profile retirements also reshaped the local landscape:
• Western Digital Chief Executive John Coyne announced plans to step aside after the New Year, and President Steve Milligan has been tapped to take his place.
• Jim Mazzo, president of Abbott Medical Optics in Santa Ana, will step down at the end of this month. Mazzo's decision to retire came prior to civil charges of insider trading related to the 2009 sale of Advanced Medical Optics to Abbott. Mazzo has said he expects to be exonerated of the charges (see related OC Insider item, page 3). Murthy Simhambhatla, who runs another Abbott unit, has been named to take the top spot at Abbott Medical Optics.
• Huntington Beach-based BJ's Restaurants Inc. named Gregory Trojan president of the chain, with plans for him to become chief executive when Gerald Deitchle retires in February.
• Anaheim/Orange County Visitor & Convention Bureau President Charles Ahlers announced plans to retire at the end of this year after 20 years as head of the organization. A search is ongoing for a replacement.
The changes touched academia, too.
Andy Policano announced plans to step down as dean of the Paul Merage School of Business at University of California, Irvine. Policano will continue with UC Irvine as faculty director for the school's Center for Investment and Wealth Management.
Policano has been dean of the Paul Merage School since 2004. He will remain in that role for another seven months—which leads us to next year, the subject for the 2013 Preview that will appear in next week's Business Journal.
Prev Next