DEALS, DEPARTURES, RETIREMENTS CHANGE LOCAL LINEUP
2012 YEAR in Review
Saturday, December 1, 2012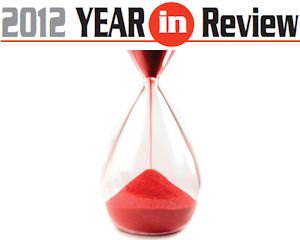 Now he has another restaurant concept in mind—and a noncompete agreement that gives him room to pursue the idea. Platt told the Business Journal earlier this year that he plans to get to work in earnest on a new chain early next year.
Other Deals
Among other OC companies that enter 2013 with new owners are:
• Aliso Viejo-based startup Gaikai Inc. sold for $380 million to Sony Computer Entertainment Inc., which plans to use its technology to create a cloud-streaming service allowing users to play "a broad array of content" on a variety of Internet-connected devices.
• Sun Healthcare Group Inc. of Irvine is acquired for $275 million by fellow nursing home operator Genesis HealthCare LLC in Kennett Square, Pa.
• Cypress-based restaurant chain operators Real Mex Restaurants Inc. went to a group of creditors operating as RM Opco and made up of Santa Monica-based investment manager Tennenbaum Capital Partners LLC, JP Morgan Investment Management Inc. in New York, and Lake Forest, Ill.-based Z Capital Partners LLC. They got an 85% stake in a deal valued at about $126 million.
• Irvine-based Freedom Communications Inc., parent company of the Orange County Register, sold to Boston-based 2100 Trust LLC for an estimated $200 million.
• Costa Mesa-based OC Weekly and 12 other alternative weekly newspapers were sold in a management buyout of parent company Village Voice Media Holdings LLC's assets on undisclosed terms in September.
OC also saw a new arrival, when steakhouse chain Sizzler USA moved its headquarters from Culver City to Mission Viejo and laid out plans to renovate the chain, with redesigns of restaurants and a reworked menu.
Then there were personnel changes, including a prominent dismissal that came about midyear, when Foothill Ranch-based Wet Seal Inc. fired Chief Executive Susan McGalla a little more than a year after she arrived at the long-struggling retailer. A search is on for her successor.
David Goronkin's hire in June 2011 as chief executive of Real Mex Restaurants turned out to be a short-term assignment. Goronkin shepherded Real Mex—which operates about 160 restaurants as part of the El Torito, Acapulco and Chevys Fresh Mex chains, among others, and was in a three-year downward spiral on sales—through its bankruptcy sale.
Goronkin resigned a few months later, and now heads up the San Diego-based Garden Fresh Restaurant Corp.'s Souplantation and Sweet Tomatoes chains. The top job at Real Mex remains open.
Retirements