REAL ESTATE: SEEKS APPROVAL FOR 524 UNITS ON RE-ENTITLEMENT
Irvine Co. Considers More Newport Center Apartments
Saturday, April 28, 2012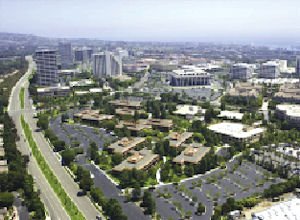 Irvine Company is considering building an apartment complex in Newport Center in place of an existing low-rise office complex.
The Newport Beach-based developer has filed plans with the city to re-entitle part of its San Joaquin Plaza, near the intersection of San Joaquin Hills and Jamboree roads, for a 524-unit apartment complex.
The project would be the second for-rent residential development owned by Irvine Co. in Newport Center, the upscale business, retail, and entertainment district surrounding the Fashion Island shopping center.
The company—the largest owner of apartments in Orange County, and its most active apartment developer of late—also owns The Colony at Fashion Island, a high-end complex a few blocks away from the proposed project at San Joaquin Plaza.
Sources familiar with the developer's plans said Irvine Co. is looking to add more for-rent housing within walking distance of Fashion Island, Newport Beach's new city hall, and the numerous offices it owns in the area.
Walking Distance
The project envisioned by Irvine Co. would likely appeal to executives working in the area, as well as older Newport Beach residents looking to downsize from their existing homes, according to sources.
Plans for the San Joaquin Plaza apartments were filed with the city earlier this year. The application is expected to be reviewed by the Newport Beach City Council this summer, according to Irvine Co. officials.
A timeframe for any potential construction hasn't been disclosed.
"We do not have a timeline to build or board approval to move forward," said Erin Freeman, senior vice president of corporate communications for Irvine Co. "If we did decide to build, it would be far in the future."
An apartment development isn't the only possibility for the site.
"As part of our long-range planning, we are studying several scenarios for the site," Freeman said. "One of the scenarios could include a 524-unit residential community."
San Joaquin Plaza includes five buildings that run two and three stories, totaling 238,000 square feet, according to Irvine Co.'s marketing materials.
The property is about 30 years old. No space at any of the buildings is currently available for lease, according to the company's website.
The largest tenant at the complex is believed to be Pacific Investment Management Company LLC. The investment firm has its headquarters a few blocks away at another Newport Center complex, but also is renting excess space in other area buildings while a new headquarters for the company goes up at 650 Newport Center Drive.
The new, 380,000-square-foot building is slated to open near the start of 2014, at which time Pimco would be able to consolidate its local operations under one roof.
It would appear unlikely that any construction at the San Joaquin Plaza complex would move ahead before Pimco's new headquarters are completed.
The project, if it goes ahead, would be the latest major construction undertaken in Newport Center. Along with the new Pimco office, Irvine Co. has put a reported $100 million into renovating Fashion Island over the past few years, and Newport City's new city hall is going up along MacArthur Boulevard at an estimated cost of $128 million.
Prior Approval
San Joaquin Plaza has been eyed for a potential housing project for several years. It was entitled for 430 residential units under a 2006 voter-approved Newport Beach General Plan amendment.
This year's re-entitlement efforts by the developer would bump up the number of apartments allowed at the site to 524.