NONPROFIT BOARD GETS ALONG, HELPS CHOC FAMILIES
Mortgages to Miracles
Sunday, June 12, 2011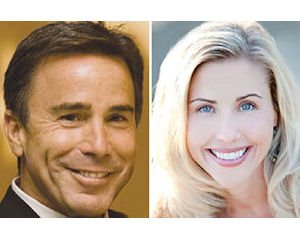 The families helped are poor.
Some were middle class with one or both parents working before their children became sick. When a life threatening diagnosis comes, it often depletes a family's savings, Strier said.
"We provide the support that they need to get through that period of time," she said.

Strier said she counts her four years at Morgan Stanley on Wall Street as invaluable. There she structured debt to finance projects such as the $50 million parking ramp for the John F. Kennedy Center for the Performing Arts.
"My experience on Wall Street is probably the most applicable experience I've had to running this business," she said.
That's the way she thinks of Miracles for Kids—as a business.
"A charity is a business," Strier said. "We just do something different with the revenue."
Beginnings
Miracles for Kids grew out of a charitable arm that Green and his business partner, Len Hamilton, had set up in 1999 at their former mortgage company, Sea Breeze Financial Services Inc.
Green and Hamilton now own Tustin-based Cavalcade Escrow, along with Shawn Noonan.
The Breeze Fund raised money for the Pediatric Cancer Research Foundation. Sea Breeze employees donated through automatic payroll deductions. Borrowers could give too.
Green started the fund in response to a cancer diagnosis of the child of a good friend.
"That's the first time I had my eyes open as to what it's like to have a child sick like that," he said.
Patrice Poidmore, executive director of development at CHOC, said the hospital gets a lot of corporate and private donations. But Miracles for Kids is one of the few nonprofits that donate, she said.
Miracles for Kids pledged $150,000 for naming rights to the family lounge in the new CHOC tower, slated to open in 2013.
CHOC families take part in Miracle for Kids' Surf & Paddle Summer Camp.
Miracles for Kids board member Tom Swanecamp, president of Irvine-based Redrock Security and Cabling Inc., organized the camp with Pegah Shakeri, program coordinator for Miracles for Kids.
"Tom loves to surf and do stand up paddleboard," Strier said.
Swanecamp got Irvine-based Billabong USA, the Ocean Institute in Dana Point and others to sponsor the camp.
One of Miracles for Kids biggest productions is its Basket of Miracles program, paid for by corporate sponsors such as Stanley Black & Decker Inc., which has operations in Foothill Ranch.
A few times a year during holidays such as Thanksgiving and Easter, the board and their children and other volunteers deliver some 200 baskets of food to the families that receive grants from Miracles for Kids.
The program begins at Gerdau's Pacifica Foods, where baskets are assembled.
Pacifica Food employees also help with deliveries.
Gerdau's three children also are involved in Miracles for Children, especially the basket program.
"From a selfish standpoint it gave me an opportunity to open my children's eyes as to what is going on out there," he said. "They're pretty fortunate kids."
Miracles for Kids benefits from two major annual fundraisers.
Its own gala at the St. Regis Monarch Beach raised $750,000 last year.
The other annual fundraising event is the annual Stars & Stripes Fishing, Golf and Music Festival, which raises money for a number of charities including Miracles for Kids (see story, page 8).
Goal
Longer term, Miracles for Kids wants to build "Miracle Manor," a place for families to stay while their children are at CHOC.
Weighed down with medical bills, many families lose their homes, according to Strier.
"It's a big undertaking, but it's needed," she said. "It's a goal, not a dream."
Prev Next