COURTS: SUSPECT TIED TO 2003 ROBBERIES; "GIVE ME MORE BANDIT"
Bank Thief Arrested in Bren Check Heist
Sunday, September 26, 2010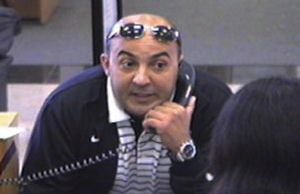 They subsequently were shown by a number of other area and national media outlets, including the Los Angeles Times and Orange County Register, as well as in local news shows.
A few days after the news broke, a jail guard in Santa Ana called federal authorities saying he recognized pictures of Kamil "as being his former ward," Secret Service agents said in a court filing.
Pictures from Kamil's driver's license matched the surveillance photos, according to agents. He was arrested and indicted shortly after.
Suspect Background
The suspect was born in 1969 and lives in Fountain Valley, according to court records. He counts a history of local bank crimes but never got away with close to the haul he's alleged to have walked off with in the Bren case.
Kamil was arrested in late 2003 and tied to nine local bank robberies, most of them during a spree occurring that year targeting OC and Los Angeles banks.
A total of $32,634 was reported stolen in the robberies, which included thefts at Bank of America branches in Corona del Mar and elsewhere in Newport Beach and a Wells Fargo in Costa Mesa, among other locations.
Investigators dubbed the bank robber the "Give Me More Bandit."
Kamil reportedly demanded more money from tellers than he initially got, according to reports at the time of his arrest.
The man threatened tellers with a weapon but never showed one, according to police reports. As in the Bren case, the release of surveillance pictures helped identify Kamil as the suspect in the 2003 robberies, police said at the time.
According to court records, Kamil pled guilty to six counts of bank robbery as part of a 2006 judgment and commitment order. He was sentenced to 30 months of prison time, most of it served prior to the 2006 judgment, and three years of supervised release.
His probation ended in June 2009, according to court records.
Prev Next