VC Fund Seeks Software Cos. Ready to Scale
FINANCE: ANKONA AIMS FOR $5M+ IN SAAS FIRMS
Monday, June 21, 2021
Share this article: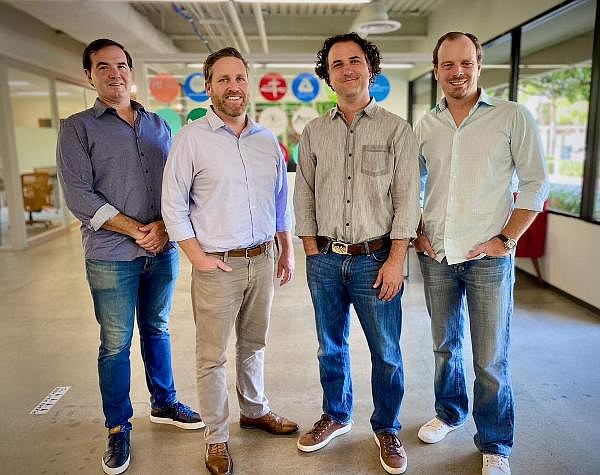 An upstart venture capital firm headed by notable Orange County tech entrepreneurs and backed by other wealthy area investors is looking for a few good software companies ready to scale.

Newport Beach-based Ankona Capital recently raised $67 million, topping its $50 million goal. The early growth VC has already invested a portion of those funds in a half a dozen software companies.

"We're local—there's definitely a sense of local pride," said General Partner Newth Morris, who co-founded logistics software maker Telogis, an Aliso Viejo-based firm that was sold for $900 million to Verizon in 2016.

Telogis was one of Orange County's dozen or so largest software companies in terms of headcount at the time of the 2016 sale; the prior year Morris received an Innovator of the Year Award from the Business Journal.

Software Expertise

While the Ankona exec team declined to identify their outside investors, they said some of them are well known in the Orange County business community for having started their own software companies.  

The Ankona founders themselves have a wealth of experience.

"Twenty years of operating experience and 20 years of investing experience is a really good marriage—when investors hear that story, it resonates," said General Partner Jared Smith, who built software firm Avetta LLC of Irvine to more than 200 employees by helping thousands of customers manage their supply chains. It was sold in 2018 for an undisclosed amount to Welsh Carson.

Ankona's two other general partners are:

• Brian Mesic, who was a general partner for 17 years at Santa Monica-based Anthem Venture Partners, which made investments in companies like Truecar Inc. and Google's Android operating system.

• Josh Harmsen, whose résumé includes being an analyst at Ford Motor Co. and Morgan Stanley before becoming a principal at Newport Beach's Solis Capital Partners Inc. where he worked for a decade.

Ankona also has three operating partners who founded companies that ultimately saw exits of more than $250 million: Jason Koch, Brad Perry and Garrett Pagon.


SAAS Investments
Ankona, which is Greek for elbow, says it differentiates itself from other venture capital firms by filling a funding gap in the region for growth-stage B2B software companies instead of seed-stage or late-stage buyouts.

Ankona is seeking companies generating $5 million to $15 million in annual sales by providing software as a service, also known as SAAS.

The low end of "$5 million in sales is a good indicator that there are enough customers," Morris said, adding that this software sector is an area of focus for Ankona because it "has contracted recurring revenue at a high gross margin."

Thus far, Ankona has invested half of its $67 million in six companies.

While it examines 300 to 400 companies annually, it's aiming to pick only three or four.

"Anyone who is a B2B SAAS founder who has gotten to scale—we know or want to know," added Smith. "We expect to build our B2B SAAS founder network even stronger in Southern California now that we have proven the model."

Once they invest, they try to help in ways such as focusing on the company's best customers, and metrics like costs to build products and acquire customers.

"Jared and I both came from companies that were bootstrapped before we raised a lot of money at great valuations," Morris said.

Prior to the sale to Verizon, Telogis—whose software uses GPS technology and analytics to improve fuel use, driver and vehicle performance, shipments and deliveries—was reported to have raised well over $100 million in funding.

Looking for More

Ankona's team often has known the entrepreneurs they invest in for years, before making their investments.

They find it useful to listen to pitches of entrepreneurs who are just beginning, even if it's for an amount as low as $25,000. Morris and Smith have participated in UCI's Cove Fund that invests seed-stage venture capital funds for promising new Southern California ventures.

"When we go to these events and hear these pitches, if we think that there is a breakout, we track them," Morris said. "When they bubble up to potential investments, we reach out."

They want to help entrepreneurs with potential.

"In the past six months, we've made dozens of introductions that are free to other local investors," Mesic said. "Even though it's too early for us, we're playing a role in the local ecosystem."

One of those early pitches was from Afif Khoury, the co-founder and CEO of San Diego-based SOCi Inc., which helps companies with multiple locations like Ace Hardware and Sport Clips coordinate their online marketing campaigns to reach local customers.

In January, it raised $80 million in a Series D Round.

"We're looking for founders who are impactful and can make a difference," said Mesic, who sits on SOCi's board of directors.

Rocketship Revenue

The VC's firm's first investment was VideoAmp Inc., a Santa Monica-based platform that "transforms wasteful mass marketing initiatives into smarter, data-driven strategies."

"It's been on a revenue trajectory that's a rocket ship," said Mesic, who said the revenue is four times the amount when it originally invested less than two years ago.

VideoAmp expects to exceed $80 million in revenue this year, the Wall Street Journal reported, citing an unidentified person familiar with the matter.

Last month, VideoAmp raised $50 million in debt financing from investment firm Capital IP Investment Partners LLC and said that it can draw a further $25 million.

Ankon's other investments include San Diego-based GoSite, which helps small businesses transition from offline to online; Utah's Canopy, a management platform for tax and accounting firms; Cordial, a San Diego firm that helps marketing teams deliver customized messages; and Carlsbad's Zingle, which enables businesses to communicate with customers through text messaging.

"All the companies we have invested in have exceeded their sales goals and gone on to raise more money," Morris said.

"We feel about good about the fundamentals of the companies we are investing in."