Parke Miller's Time: Lincoln Goes Big in 2019
REAL ESTATE: ACTIVE ON ALL CRE FRONTS
Monday, January 6, 2020
Share this article: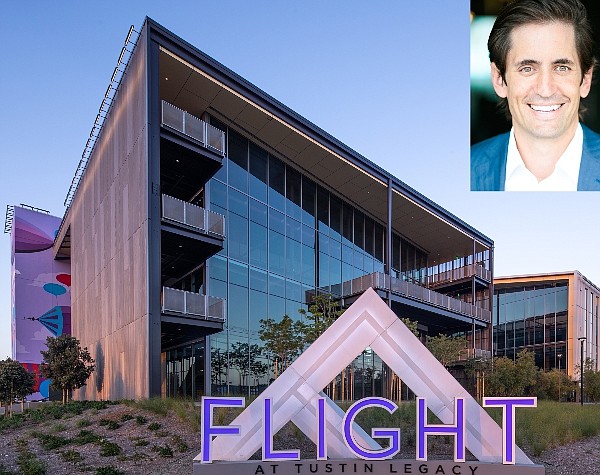 Name a commercial real estate trend worth paying attention to in Orange County last year, and Lincoln Property Co. was likely involved—and in a big way.
Office development and redevelopment totaling more than 1.9 million square feet, building acquisitions in excess of $250 million, one record-setting retail property sale, some of the largest office lease deals of the year, and a trio of the area's largest coworking partnerships were all part of the firm's busy 2019.
It made for a standout year for the title Parke Miller, who heads the local ops for the Dallas-based real estate investor, and whose mantra for 2019 appeared to be "never pass up an opportunity."
"Our goal in Orange County has been to define ourselves by making smart, long-term investments and through creating unique workspaces for the local workforce," Miller told the Business Journal.
The privately held firms' standout 2019 made Miller an easy pick as the Business Journal's Business Person of the Year, in the real estate sector.
The 36-year-old, who joined Lincoln in 2012 and took over the top spot in OC in 2016, says the credit for the accolade needs to be shared.
Lincoln has "trusting investors and business partners, and an extremely talented, hungry and energetic team of people that work for Lincoln in OC to serve our customers and represent our brand in the community," Miller said.
"I am just a pinball in this world of good people."
Taking Flight
Lincoln's local presence has never been bigger, and a large reason for that can be seen near the intersection of Barranca Parkway and Red Hill Avenue in Tustin.
The firm finished the first phase of Flight, a 10-building collection of offices, meeting space and a food hall that runs about 470,000 square feet, in March.
It is:
• The largest office development to open in the John Wayne Airport area in about two years.
• The county's largest-ever ground-up creative office development, featuring a variety of architectural flourishes, artwork and tenant amenities more commonly associated with Silicon Valley or hipper spots of Los Angeles.
• The largest commercial project to be built on the city's former Marine base in about a dozen years, since the District at Tustin Legacy shopping center opened its doors.
Flight inked three large leases in 2019, with a few more expected to close this month.
New arrivals include fintech Happy Money, which will move into its 72,000-square-foot space early this year.
Other tenants include Branded Online, a marketing company that will move into a new 20,432-square-foot headquarters; and coworking firm Work Well Win, which will open its first Orange County location in a 25,438-square-foot space.
Sources tell the Business Journal a 15,000-square-foot deal should be announced soon: Newport Beach-based InXile Entertainment Inc., a video game developer that was acquired by Microsoft Studios last year.
Three additional deals at Flight are expected to close early this year, sources say, totaling about 60,000 square feet.
Even without tenants, the creative office project is generating crowds, thanks to a 12,000-square-foot food concept, Mess Hall.
"It's amazing how popular it already its," Miller said of the food court, which has 10 vendors.
Miller speaks with experience when it comes to the value of an in-demand food hub; the company recently sold Irvine's Trade Food Hall for $31 million, or roughly $950 per square foot, to Japan-based Daiwa House Group.
Trade was Irvine's first ground-up food hall built in the current market cycle; its per square foot sales price is among the tops for a retail property in OC not along the coast.
Next Phase
As for the second phase of Flight, Miller said that Lincoln is in talks with tenants for potential build-to-suit deals for north of 200,000 square feet. The firm could also decide to build on a speculative basis, like the first phase, he said.
As with many of Lincoln's local projects, CBRE Group Inc. is handling leasing for Flight.

Elsewhere on the leasing front, electronics manufacturer Epson America Inc. has started the build-out of 3131 Katella Ave., a two-building project in Los Alamitos that recently underwent a multimillion-dollar renovation.
Epson inked a deal to move its headquarters from Long Beach into the 150,000-square-foot building last March, a deal which was among tops for the year.
Miller said Epson is slated to start moving its 600-plus employees into the new space in June.
Investments, Testing Waters
Creating unique, urban workspaces in Orange County has been a differentiating strategy for Lincoln.
The company is working on significant upgrades within its existing regional office portfolio that runs north of 7 million square feet; renovations are currently underway at roughly 10 of its properties.
Miller and his team of about 40 employees test out these upgrades first-hand by moving their office every year or so to different projects.
It spent much of last year at Culture Yard, a 72,500-square-foot office project next to the Costa Mesa (55) Freeway. As renovations wrap and the property nears full occupancy, Lincoln has moved its local headquarters about three miles away to the Newport Summit office campus, an 111,544-square-foot project in Irvine that's also being renovated.
"We want to create offices that have a sense of place, that feel comfortable for people to work and collaborate," Miller said.
Redstone Plaza, a two-building complex Lincoln owns along MacArthur Boulevard in Newport Beach, is also being revamped, with construction expected to finish in April.
Coworking company WeWork will open a 51,714-square-foot space at the property this month, according to Miller.
It'll be WeWork's first location in Newport Beach.
Lincoln is also putting millions into other recently acquired properties, like a six-building office portfolio it bought in early 2019 from Santa Ana-based Colton Co.
It paid about $74 million for the 400,000-square-foot collection of offices, which includes two buildings in Orange, two more in Laguna Hills, one in Anaheim and one in Lake Forest.
"All have loyal and long-term tenant bases, and we are looking to improve the experience for them by modernizing the infrastructure and look of the buildings," said Miller.
Legacy
The company is not slowing down plans as 2020 starts; it is expected to complete the purchase of a collection of older office properties near John Wayne Airport soon, with renovations planned.
The nearly 90,000-square-foot set of buildings was last used by Allergan.
When it comes to acquisitions, Lincoln is "constantly looking at new opportunities," Miller said.
This could mean expansion into new sectors, such as industrial, a property type that the firm has done in San Diego and Los Angeles, but not yet OC.
Longer term, the company is thinking even bigger, Miller said.
"We want to lend the experience, track record and resources of our 55-year-old company to bigger, mixed-use developments that could make generational marks on Orange County."