Midday Stock Roundup
Originally published March 5, 2019 at 10:22 a.m., updated March 5, 2019 at 10:22 a.m.
Share this article: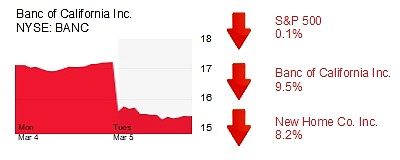 The S&P 500 inched down 0.1% in midday trading to 2,790.19.
The Dow Jones Industrial Average and the Nasdaq were both flat at 25,817.18 and 7,579.01, respectively.
The yield on a 10-year Treasury bond rose 0.6% to 2.74%.
The price of gold fell 0.3% to $1,284.
The price of a barrel of oil increased 1.2% to $56.44.
FINANCE
Banc of California Inc. (NYSE: BANC) in Santa Ana plummeted 9.5% to $15.61 and a $791 million market cap.
OC's second largest bank this morning named Jared Wolff as chief executive officer, replacing Doug Bowers, effective April 29. Shares are still up 28% since hitting a 52-week low of $12.22 on Dec. 24.
REAL ESTATE
New Home Co. (NYSE: NWHM) in Aliso Viejo fell 8.2% to $5.30 and a $108 million market cap. Shares in one of OC's biggest sellers of expensive homes were trading at less than a third of their daily average.