SPORTS: MOSHAYEDI, MADDEN, BISSELL AND OTHER OC EXECS SEE PARALLELS IN SAILING, BUSINESS ENDEAVORS
Setting Sail
Monday, July 15, 2019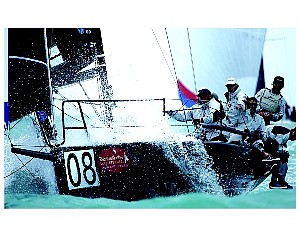 Rio 100's crew of 16 includes Moshayedi, who's been sailing for 30 years, his son Sebastian, and several sailing pros.
Transpac is "an adventure with a lot of unknowns," he said, adding that just like running a business, "you've got to assemble a team of experienced sailors that work good together 24/7 to keep the boat sailing fast."
However, hiring sailing "all-stars" does not guarantee a win, according to Jim Madden, co-founder and managing director at Carrick Capital Partners, a Newport Beach private equity firm; its investments include Irvine-based software company Mavenlink.
"Consistency and relationships are very important," he said. "Some members of my crew have been sailing with me for 19 to 20 years, so we got to know each other and trust each other."
Madden's Challenge: Finding Time
Transpac is on Madden's bucket list, but he had to skip it this year.
"Finding time to sail is the No. 1 challenge," he said. "For every day in the race you need at least two to three days of practice. There is too much going on right now with my business to prepare.
"I squeeze in some time whenever I can."
Madden plans to enter his 60-foot boat, Stark Raving Mad, in the Bermuda Race next June, a 635-mile trek from Newport, Rhode Island to the island of Bermuda.
His packing list will include his lucky shoes, "the 7-year-old Sperry Top-Siders that should have been replaced some five years ago" and a white cap with his boat name on it, which he has held onto for nine years.
"You need a little bit of luck," Madden said. "I wore it for the [Newport Beach to Cabo San Lucas International Yacht Race] in March and we won … I get upset if I realize I forgot to pack it."
In sailing, luck can come in handy with "wind holes," a section of the racecourse with much less wind than others.
"A boat a mile away from you could be sitting in a wind hole and you are speeding past them, or vice versa," he said.
Then there's the risk of running into fishing lines or a lost shipping container. The crews sail day and night, in four-hour rotations, so someone is always on the lookout. Those getting a quick nap in the berths below the deck turn their feet toward the bow in case of a crash.
The teams could maneuver the sail boats through areas with high pressure, where the visibility at night is better than in areas with low cloud cover—but that's not where the wind is.