REAL ESTATE: MANLEY TO SELL BIZ LICENSES FOR RENTALS
Mr. Brea Tries Solving Low-Cost Housing Riddle
Monday, December 16, 2019
Dwight Manley believes he has the answer to the riddle of the lack of low-cost housing in Southern California.
Often known as "Mr. Brea" for owning 20 offices, restaurants and other buildings in that northern OC city, he's planning a five-story residential development a mile west of the Orange (57) Freeway, near Imperial Highway, that will hold 114 apartments.
Located along Mercury Lane, next to the site of one of the city's largest employers, Mercury General Corp., the proposed project is dubbed "The Mercury."
His key solution to keep rental prices low while not having the system gamed: the renters must work at Brea businesses that will in turn pay a monthly license fee around $40 per unit.
"The biggest thing going on here is we're focused on a new product type for workforce living," Manley said during an interview from his second-floor office, which overlooks the renovated downtown Brea where he owns about half of his buildings.
Companies paying these licenses would be "showing an investment in their employee," he said.
"If you don't have the working class or the middle class taken care of, you crumble."
It would be the first substantial ground-up project for Manley in Brea, as well as his first residential development.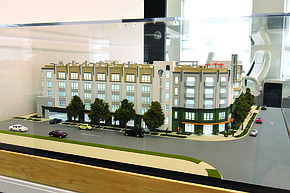 He says his firm Manley Fanticola Holdings LLC has the funds lined up to build The Mercury, likely to cost $20 million or so. His longtime business partner, Tony Fanticola, is among OC's wealthier residents, with a fortune the Business Journal estimates to be in excess of $500 million. He helps finance the company's projects through development, Manley said.

Larger projects nearby in Brea are also envisioned that could run nearly $200 million to build. Manley says he has the financing for those as well.
Sentimental Journey
Manley is known for his numerous and unrelated activities, such as selling more than $100 million worth of coins from a notorious 1857 shipwreck and being the one-time agent of basketball player Dennis Rodman.
In 2003, Manley began investing in Brea's commercial real estate and eventually moved from Newport Beach to the city, where he had grown up.
Among their many projects, Manley and Fanticola have built a CVS store and a Coffee Bean, as well as turned an Old Navy store into the Old Brea Chop House restaurant, which opened last month.
Politics
Manley has also immersed himself in Brea politics, sometimes with controversial results.
Prev Next