Mobilitie Sets Sights On LA Tower and More
TELECOM: 5G COVERAGE FOR OFFICES, RESORTS, CBS
Monday, December 9, 2019
Share this article: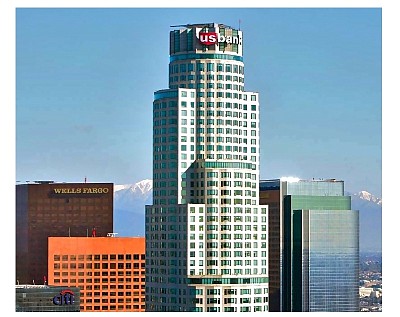 In the next five to 10 years, 5G-related work will result in the "greatest investment in wireless infrastructure we've ever had," Gary Jabara, founder and chairman of wireless infrastructure firm Mobilitie, told the Business Journal last month.
A flurry of deployment-related news emanating from the Newport Beach-based firm suggest a ramp-up in work is well underway for the privately held company.
Mobilitie said it was selected to design and deploy a custom network for downtown Los Angeles landmark U.S. Bank Tower; it's one of several such deals the company has made nationwide in recent weeks.
The tower, once the tallest building west of the Mississippi River, rises 73 floors above West Fifth Street in the heart of L.A. International law and financial tenants require reliable high-speed mobile coverage throughout the building.
"Enhanced wireless coverage will be vital for the overall experience," Yohannes Cramlet, director of wireless solutions at Mobilitie, said in announcing the agreement.
No financial terms were given.
On Deck, Slide In
The wireless network will also complement treks to the tower's OUE Skyspace observation deck, which attracts thousands of visitors. It extends the skyscraper squarely into social media, enabling sharing of photos and videos taken of trips down the glass slide on the outside of the building nearly a thousand feet above street-level.
Mobilitie says its neutral-host networks are open to all major wireless carriers.
The company is the largest privately held U.S. telecommunications infrastructure company. It funds, deploys and operates next-gen infrastructure; its portfolio of cellphone towers and small-cell towers runs into the thousands.
5G is the fifth generation of cellular wireless technology, currently being deployed, designed to give high-bandwidth connectivity up to 100 times faster than current 4G LTE connections.
Elsewhere
Mobilitie's infrastructure is often in settings with many wireless users in a relatively small area such as stadiums, malls, casinos, large office buildings—places it calls "the largest and most complex venues" for providing service.
Other locations it's been tapped to improve wireless service in the past month include the Washington D.C. Bureau of CBS News, and Nova Southeastern University and the Diplomat Resort and Spa, both in Florida.
Mobilitie has funding for more.
The company in August said it had reached a $1 billion "exclusive arrangement with a foreign investment fund to fuel the next five years of growth around 5G infrastructure."
Cash will boost domestic and global 5G growth "and bring unprecedented connectivity to consumers."