Sears Closing South Coast Plaza Location
Monday, October 15, 2018
Share this article: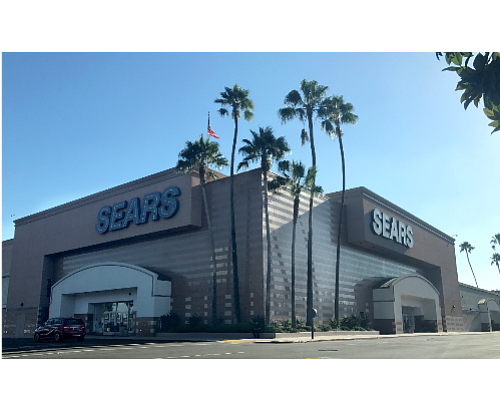 Sears Holdings Corp. plans to shutter its location at Costa Mesa's South Coast Plaza as part of its just-announced Chapter 11 bankruptcy filing.
The location in Orange County's most valuable shopping center is one of 142 money-losing stores that the struggling retailer plans to close by the end of the year, according to bankruptcy court documents filed on Monday.
Sears, which is a legacy anchor at the mall, sold off ownership of the South Coast location last year to C.J. Segerstrom & Sons, which operates the 2.7 million square foot shopping center. That deal was for a reported $187 million.
Sears has been leasing back the space as a tenant since then, under undisclosed terms.
Sears operates a roughly 240,000-square-foot store at the mall, and leases out another 43,000 square feet in its main building to fast-fashion retailer Forever 21.
Forever 21's fate at the center was not immediately disclosed in the court filings.
The late Henry Segerstrom, whose C.J. Segerstrom & Sons opened South Coast Plaza in 1967, famously sold land at the center to Sears for $1 to entice it to build its store there.
A redevelopment of the Sears space has been expected since the 2017 sale. Plans and a timing for that project have not been disclosed.
A liquidation sale is expected to begin shortly at all the soon-to-close Sears locations, according to filings with the Southern District of New York, where Sears filed for bankruptcy.