Surf City Offices Trade for $124M
LARGEST OC DEAL FOR PENDULUM PROPERTY PARTNERS
Wednesday, December 5, 2018
Share this article: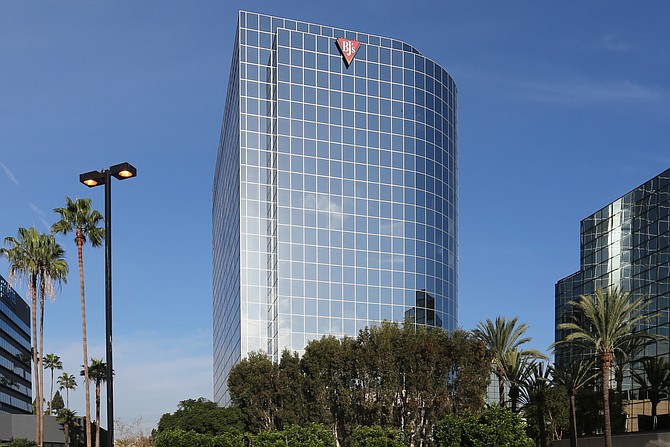 Irvine-based Pendulum Property Partners, a real estate investment and development firm that started operations in 2016, has made its largest area purchase to date, buying Huntington Beach's most prominent office complex.
The privately held company was part of a venture that recently closed on the purchase of One Pacific Plaza, a three-building office complex that runs along the San Diego (405) Freeway next to the Bella Terra shopping center.
The three buildings at One Pacific Plaza—one 12-story tower and two six-story buildings—total about 394,000 square feet.
The campus holds the headquarters of casual dining chain BJ's Restaurants Inc. and the local offices of Woodland Hills-based Health Net Inc., among other tenants. It's more than 90% occupied.
BJ's Restaurants (NYSE: BJRI) leases about 56,000 square feet for what it calls its "restaurant support center."
The $1.2 billion valued restaurant group renewed its lease earlier this year, prior to the complex being listed for sale.
Property records indicated the complex sold a few weeks ago for $124.4 million, or nearly $315 per square foot.
That's the highest reported per square foot price for a larger-sized office deal in Surf City in the past 10 years, according to data from real estate market tracker CoStar Group Inc.
It's also the biggest office sale in the city over the same time by total price, and one of just seven office sales in Orange County this year to top the $100 million mark.
Pendulum partnered with an affiliate of Los Angeles-based Ares Management Corp. (NYSE:ARES), a global alternative asset manager with approximately $125 billion of assets under management, on the deal.
It's the first deal between the two firms, according to Pendulum's founder and Managing Partner Kevin Hayes.
The buyers took out a $97 million loan with Atlanta-based Suntrust Bank to finance the deal, property records indicate.
An affiliate of Parsippany, N.J.-based Prudential Real Estate Investors sold the complex. PREI paid a reported $95 million for it four years ago, when it was about 80% leased.
The latest transaction represents a nearly 33% jump in value for the complex. The sale was brokered by K.C. Scheipe and Adam Edwards with the Newport Beach office of Eastdil Secured LLC.
The new owners are likely to see rising valuations for their investment going forward, according to Scheipe.
"They have a captive tenant base in Huntington Beach," and the complex is the largest high-end office project between Seal Beach and Costa Mesa, Scheipe said.
There are only four office properties in Surf City larger than 100,000 square feet, according to CoStar records. One of those is an eight-story building on Bolsa Chica Street long used by Boeing Corp. It sold along with excess land earlier this year for $72 million and is expected to be knocked down shortly to make way for a new industrial development.
Surf City's Class A office market totals about 2.5 million square feet and has a vacancy rate of around 7%, a slightly better figure than what's seen in OC's overall office market, which is closer to 10%, according to area brokerage data.
Quick Return
The purchase of One Pacific Plaza marks a return home of sorts for Hayes.
Hayes started Pendulum about two and half years ago, after heading the local office of Dallas-based commercial real estate firm Lincoln Property Co.
One of Lincoln's more profitable deals under his watch was a 2011 purchase of the same campus, which at the time was called Bella Terra Tower.
Lincoln and GEM Realty Capital Inc., a real estate investor based in Chicago, paid about $76 million for the campus, when the offices were under 70% leased and the site was operating out of receivership after prior ownership reportedly fell behind on a $105 million loan tied to the property.
By 2014, occupancy had been stabilized, and Lincoln and GEM sold the campus to PREI for $95 million, a 25% higher price than what was paid in 2011.
Hayes notes that with Orange County businesses now drawing more employees from Los Angeles, than L.A. does from OC, the office complex's location along the 405 Freeway should draw attention from tenants that have larger bases of employees from across the county line.
Pendulum has one other asset in Huntington Beach: Peter's Landing Marina, a retail and office property on Pacific Coast Highway overlooking Huntington Harbor.
Last year it paid about $33 million for the roughly 100,000-square-foot property, which is across the street from Sunset Beach, near the iconic PCH water tower house. A rehab of the Peter's Landing is underway; it recently landed Golden Road Brewery as a new tenant.
Pendulum has now spent close to $400 million this year on acquisitions, with San Diego becoming a new focus.
Also in November, Pendulum made its largest-ever buy, paying nearly $170 million for a portion of the Liberty Station mixed-use project in San Diego.
Other buildings in its portfolio include offices in Irvine and a retail development site in Ontario.
It has spent upwards of $650 million on real estate deals since the company's founding about two and half years ago.
Hayes, who earned a degree at the University of Colorado in 2002, began his career at Irvine Co. in office leasing and then spent four years in tenant representation at Cresa Partners.
During his eight year tenure at Lincoln Property, he opened its Orange County and San Diego offices and oversaw the third party asset and property management platform adding more than $1.5 billion of property.
Hayes has closed more than $1 billion of commercial real estate property transactions; he said he's made more deals with Pendulum over its short period than during his Lincoln tenure.