Johnny Rockets Gets 1st Drive-Thru
Thursday, June 16, 2016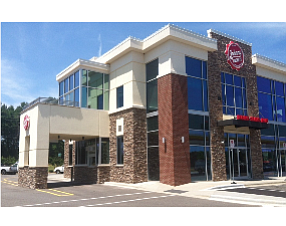 Lake Forest-based restaurant chain Johnny Rockets Group Inc. opened its first-ever drive-thru, a franchised location in North Carolina.
The drive-thru in Mooresville, "is part of Johnny Rockets' continuing evolution to cater to the changing habits of a variety of target audiences that demand top quality food, served fast and at a great value," a company news release said.
Johnny Rockets in 2014 said it would offer smaller locations—including drive-thru, drive-in, food truck and movie theater pop-up sites—to boost domestic unit growth.
According to its website the chain's only other North Carolina location is in a casino in Cherokee, N.C.
Johnny Rockets said it will open more drive-thru restaurants this year and that the stores are part of a plan to change the chain's focus. The company in April debuted a new logo and restaurant design that dropped its "retro diner" look in favor of a more contemporary look.
Johnny Rockets is the No. 7 Orange County-based restaurant chain, operates 340 locations, and employs about 230 locally and 7,500 companywide.