Makar Properties Gets Back in Hotel Game
REAL ESTATE: SANTA BARBARA BUY 1ST REPORTED IN 5+ YEARS
Saturday, June 29, 2013
Share this article: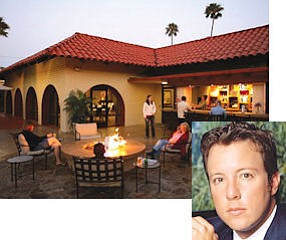 Orange County's most prominent hotel owner during the last commercial real estate boom appears to be back in acquisition mode.
An affiliate of Newport Beach-based Makar Properties LLC—which shed most of its best-known assets over the past few years—recently closed on the purchase of Holiday Inn Santa Barbara-Goleta in southern Santa Barbara County.
The 160-room hotel sold for $24 million, or $150,000 per room.
Santa Barbara Owner LLC, a subsidiary of Irving, Texas-based FelCor Lodging Trust, sold the hotel. FelCor had owned the property since 1998; it valued the property at about $18 million, according to the company's most recent annual report.
The hotel was purchased free and clear of existing debt, and the hotel was sold unencumbered of both franchise affiliation and management, according to officials with the Irvine office of brokerage Holliday Fenoglio Fowler LP, which worked on the sale.
It was reported as being bought by MP-Goleta Hotel Partners, an LLC that state records show has the same address as Makar Properties. Paul Makarechian, Makar's chief executive, could not be reached for comment.
It's the first reported acquisition in more than five years for Makar or any affiliates.
Makar's real estate portfolio took a big hit in the recession and its aftermath.
The company at one point owned the St. Regis Monarch Beach Resort in Dana Point and the Hilton Anaheim, among other notable local properties.
Lenders took over the St. Regis in 2009 after Makar and its financial partners fell behind on payments for $300 million in debt from a 2007 refinancing. The Hilton—the largest hotel in Orange County by room count—was quietly sold off last year to an investor with foreign ties, for about $216 million.
Makar now appears to have its balance sheet in order, and a new round of acquisitions could be on the way, according to hotel industry executives.
"Looking"
"They are out there looking" for more acquisitions, said Alan Reay, president of Irvine-based consultancy Atlas Hospitality Group.
Makar is said to have lined up funding from a wealthy local investor for additional acquisitions, according to Business Journal sources.
The company's been eyeing hotel properties in coastal locations of late, such as Laguna Beach and other spots in Santa Barbara County, according to Reay.
Santa Barbara has particularly been a strong hotel market recently, and the region has been drawing other OC investors, Reay noted.
Irvine-based Pacific Hospitality Group LLC headed up an investment team that recently bought Bacara Resort & Spa, a 354-room hotel in Goleta that changed hands in March on undisclosed terms.
The Bacara was valued at close to $140 million as of earlier this year, according to local reports.
Irvine-based private equity company Eagle Four Partners—which partnered with Pacific Hospitality for last year's purchase of The Balboa Bay Club & Resort in Newport Beach and Newport Beach Country Club—also was part of the Bacara purchase.
Another OC-based company, Ayres Hotels in Costa Mesa, is aiming north of Santa Barbara with its first entry in the resort segment with a hotel in Paso Robles (see related story, page 1).
The Holiday Inn Santa Barbara-Goleta is off Highway 101 near the Santa Barbara Municipal Airport.
The property includes 4,500 square feet of meeting space and a resort-style swimming pool and restaurant, according to Holliday Fenoglio Fowler, whose Bill Stadler, Holden Lim and Scott Hall worked on the sale.