REAL ESTATE: YORBA LINDA PARCEL MARKETED FOR $2M AN ACRE
North OC Land Buy Signals Demand for Prime Territory
Saturday, January 14, 2012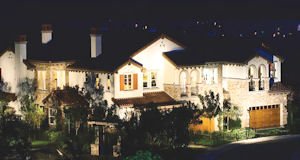 Scottsdale, Ariz.-based homebuilder Taylor Morrison Inc. has bought a nearly 16-acre parcel of land in the foothills of Yorba Linda in one of the larger residential land buys seen in North Orange County in several years.
The builder snapped up the last unclaimed parcel of land available for development in the Vista Del Verde master-planned project in a deal that closed near the start of the year. The land is entitled to hold 143 homes, which are slated to run from about 2,200 square feet to 2,600 square feet.
Terms of the deal with weren't disclosed.
The land was said to be marketed in the $2 million-per-acre range.
An estimated price of $32 million would likely make it one of the most expensive land deals in North OC since Irvine-based Standard Pacific Corp. and Walnut-based Shea Homes moved ahead with the first phase of their 800-acre Blackstone project in the hills between Brea and Fullerton.
Taylor Morrison is expected to begin work at Vista Del Verde later this year. Sales could start selling homes at the project, called Palisades, by this May, according to company officials.
The land was sold by Horsham, Pa.-based builder Toll Brothers and Aera Energy LLC of Bakersfield, which have overseen the development of Vista Del Verde since its start in 1999.
Vista Del Verde will have about 1,750 homes when completed. The 843-acre development—which at one time was an oil field—is centered around the Arthur Hills-designed Black Gold Golf Club.
The high-end development currently has a trio of new home projects being built by Toll Brothers and Irvine-based MBK Homes. Those projects have sale prices starting at about $700,000.
The Irvine office of land brokerage Land Advisors Organization handled the latest sale of the Vista Del Verde land, located near the intersection of Lakeview Avenue and Bastanchury Road.
The sale also includes land that's set to hold a recreation facility. That site is located next to a 5-acre plot of land that will hold a city park.
1,200 Lots
Land Advisors' Mike Hunter, who worked on the deal with colleague Alison Rawlins, has worked with Toll Brothers and Aera Energy since the project's start, helping sell close to 1,200 lots.
Land prices at the project have held up over the years, thanks in part to the North OC site's proximity to Los Angeles. Los Angeles and North OC have continued to draw plenty of interest from institutional investors that fund homebuilders, Hunter said.
Prev Next