REAL ESTATE: MORE WRANGLING SEEN WITH LEHMAN ON MARBLEHEAD
SunCal Back in Game on Auction, Army Deal
Sunday, April 17, 2011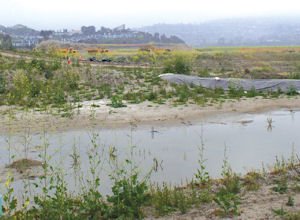 Irvine-based master developer SunCal Cos. suddenly has the makings of a growth push after several years in legal limbo.
The company, one of California's most aggressive land buyers during the real estate boom, earlier this month got the lead role in a 180-acre redevelopment at a former Army Reserve base in the Bay Area.
It also reclaimed control of three California mega projects that have been in bankruptcy protection for more than two years.
If the latest proposal by SunCal's lawyers makes it through an increasingly convoluted bankruptcy process, the developer also could find itself directing the reorganization—and regaining ownership—of several other stalled projects.
One of those is San Clemente's Marblehead Coastal development.
"They're definitely going after land again," said Terry Ruckle, founding principal at Land Advisors Organization, a land brokerage with offices in Irvine.
A SunCal-backed venture emerged as the surprise winner in a recent court-overseen auction of three stalled properties: the McAllister Ranch project near Bakersfield and the McSweeny Farms and Summerwind Ranch developments in Riverside County.
The three projects total more than 5,000 acres and have the potential for more than 11,000 homes.
SunCal was the initial developer for the properties, which have been operating under bankruptcy protection since 2008.
THE NEWS:
SunCal wins back control of three major developments in court auction, strikes deal for 108-acre project on land currently part of Bay Area Army Reserve base
BACKGROUND:
Various other projects still under bankruptcy protection, including upscale Marblehead in South Orange County
WHAT'S AHEAD:
SunCal has proposed plan to resume control of Marblehead, other projects, but likely will face legal challenge from onetime financial backer Lehman
Lehman
They originally were financed by New York's Lehman Brothers Holdings Inc., which filed for bankruptcy in 2008 and lives on only in bankruptcy court.
The three California projects had more than $300 million in debt tied to them at the time of their individual bankruptcy filings, according to court documents.
The three projects are being handled separately from the bulk of SunCal's other bankrupt properties in Southern California, including Marblehead.
SunCal, which hasn't declared bankruptcy itself, won back the three properties with a $71 million bid at auction.
That was $1 million more than the maximum credit bid allowed for existing debt-holders—including Lehman—according to Land Advisors' Ruckle, who marketed the projects for sale along with Los Angeles-based Madison Partners.
The deal valued McAllister Ranch at $22 million and McSweeney Farms at $15.5 million. Summerwind Ranch, the largest project of the three at 2,591 acres and designed to hold 3,683 homes, was valued at $33.5 million in the sale, according to court filings.
Prev Next