HEALTHCARE
Recent and archived news stories on: Biotechnology, Doctors, Drugs, Health Insurance, HMO's/PPO's, Hospitals, Medical Devices, Nursing...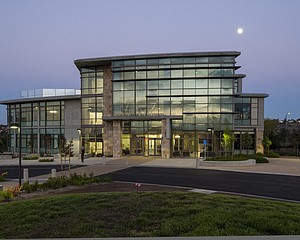 UCI Collaboration Birthed From Vibrant OC Eye Cluster
What do you get when you cross a Botox pioneer with the Bond King?
March 29, 2017 10:34 a.m. $$
Share

Allergan PLC received Food and Drug Administration approval for TrueTear Intranasal Tear Neurostimular, a device that temporarily increases tear production via electrical stimulation.
April 25, 2017 12:51 p.m.
share »

Glaukos Corp. in San Clemente paid $5.5 million to Dose Medical Corp. in Laguna Hills for wireless sensor technology to incorporate into Glaukos' eye stent product line to treat glaucoma.
April 14, 2017 11:31 a.m.
share »

Biolase Inc. in Irvine plans to raise up to $17.6 million, including warrants, in a private placement with several investors.
April 13, 2017 11:02 a.m.
share »

Quality Systems Inc. subsidiary NextGen Healthcare Information Systems LLC will buy Entrada Inc. for $34 million.
April 12, 2017 12:40 p.m.
share »

Alliance HealthCare Services Inc. in Newport Beach will be taken private by Tahoe Investment Group Co., Ltd. in Fuzhou, China in a deal that values Alliance at about $145 million.
April 11, 2017 11:04 a.m.
share »

Former Alphaeon Corp. Chief Executive Robert Grant said he will launch an app this fall for consumers to schedule and access on-demand specialist physicians in fields such as orthopedics, cardiology and brain surgery.
April 7, 2017 9:40 a.m.
share »

Endologix Inc. in Irvine agreed on a debt package of $170 million with New York private equity firm Deerfield Management Co., which now also holds rights to buy 6.5 million Endologix shares at $9.23 apiece.
April 6, 2017 1:23 p.m.
share »

Apax Partners LLC has agreed to buy Syneron Medical Ltd. for $397 million in cash.
April 3, 2017 12:10 p.m.
share »

HCP Inc. President Justin Hutchens will leave the Irvine-based healthcare-focused real estate investment trust to lead Darlington, England-based HC-One Ltd. as chief executive.
April 3, 2017 11:49 a.m.
share »

Nancy Alvarez, assistant dean of experiential education and continuing professional development for Chapman University's School of Pharmacy, was inducted Monday as the 162nd president of the American Pharmacists Association.
March 28, 2017 3:04 p.m.
share »

St. Joseph Hospital-Orange said Scott Rusk would be chief medical officer, effective immediately, with a mandate to "improve clinical quality and outcomes," Chief Executive Jeremy Zoch said.
March 28, 2017 8 a.m.
share »

BioCorRx Inc. in Anaheim secured $4.2 million financing, including $940,000 in equity financing from nine investors and $1.7 million from Alpine Creek Capital, effective by March 24, a press release said.
March 22, 2017 11:46 a.m.
share »

Allergan PLC received Food and Drug Administration approval to market hyaluronic acid dermal filler Juvederm Vollure XC.
March 20, 2017 3:38 p.m.
share »

Irvine-based Alignment Healthcare secured a $115 million investment from New York-based private equity firm Warburg Pincus LLC to support its U.S. expansion.
March 9, 2017 10:02 a.m.
share »

Aliso Viejo-based OrthAlign Inc. appointed Eric Timko as chief executive and the chairman of the board.
March 1, 2017 3:51 p.m.
share »