Kelley Blue Book Sponsors Nascar's Earnhardt, Jr.
Thursday, February 13, 2014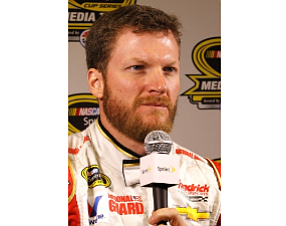 Kelley Blue Book Co. is adding Nascar racing to its marketing campaign.
The Irvine-based auto information company is sponsoring Nascar driver Dale Earnhardt Jr. of Hendrick Motorsports for the next two years.
The sponsorship agreement includes prominent brand placement on the Earnhardt's No. 88 Chevrolet SS racecar during Sprint Cup races. It also allows for "primary sponsorship" of Earnhardt's vehicle during June 22 Toyota/Save Mart 350 Race at Sonoma Raceway, when it will be wrapped in "KBB blue" decals according to company officials.
The Nascar sponsorship "is the next step in communicating our brand strength and recognition as a vehicle valuation pioneer and leader for new-car shopping and research," Steve Lind, vice president of operations for KBB, said in a news release. "By supporting successful race car driver Dale Earnhardt Jr. and Hendrick Motorsports, coupled with Nascar's brand equity, we will reach even more consumers with our message."
Earnhardt said he is looking forward to partnership with KBB.
"As a car enthusiast and dealership owner, I've trusted them for years for vehicle valuation and information," he said. "It's exciting to work with a partner that's new to the sport, and I'm proud Kelley Blue Book will be on board with the No. 88 team for their debut season."