REAL ESTATE WATCH: HIGH-RISE OFFICE MARKET
High-Rise Office Vacancies Continue to Fall
Saturday, May 11, 2013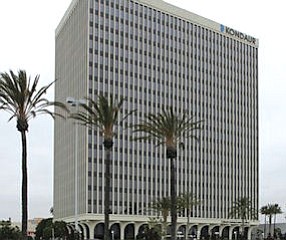 The high-rise office market in Orange County continued to improve over the first quarter and looks to be on track for a healthy year. The market, with a base of nearly 27 million square feet, continued a trend of decreasing vacancy rates and stable lease rates.
Vacancies
Average high-rise vacancy, which includes vacant space for sublease, dropped from 15.3% in the fourth quarter to 14.5%, while the average asking lease rate stayed at $2.12 per square foot. The total vacancy this time last year was 16.9%, and the average asking lease rate was $2.10 per square foot, a change that shows a recovery in the works.
A total of 235,430 square feet of net absorption occurred in the first quarter. The submarket with the most significant reduction in the vacancy rate was Central Orange County, where office demand is typically driven by "back-office" users that want to be central to their labor pools. The submarket's vacancy rate declined from 18.5% to 17.1%, driven by 89,132 square feet of positive net absorption created by a few larger leases with financial services and healthcare-related companies.
Unemployment
The unemployment rate in Orange County was 6.3% in March, down from a revised 6.6% recorded in February and below the year-ago estimate of 7.9%. That compares with a seasonally adjusted unemployment rate of 9.4% for California and 7.6% for the nation during the same period. The trend on employment will help fuel more high-rise office space absorption if it continues.
Orange County's decreasing vacancy rates, positive job growth, strong absorption, and lack of new construction have all helped the high-rise office market recover.
Hill is a vice president at CBRE in Orange County.