Commerce National Agrees to $42.9M Sale
Thursday, May 2, 2013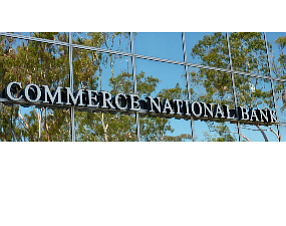 Commerce National Bank in Newport Beach has agreed to be acquired by Spokane, Wash.-based Sterling Financial Corp. for about $42.9 million.
The deal is subject to approval by shareholders and regulators, and is expected to be completed in the third quarter.
Shares of Commerce National's stock, which trade over-the-counter, jumped more than 29% during morning trading, to a market value of about $30 million.
Commerce National has a lending office in Anaheim in addition to its Newport Beach headquarters.
Sterling operates through its Sterling Savings Bank subsidiary and has about $9.26 billion in assets. The company's first-quarter profit totaled $22.7 million, up 71% from the same period last year.
Commerce National, which has about $242.7 million in assets, recently posted net income of $225,000 in the first quarter, down 5% year over year.
The bank's deposit base grew by 3% to $211.4 million. Net loans ticked down in the first quarter by 1% to $142 million.