Mindspeed Up On Talk of Sale
Wednesday, May 1, 2013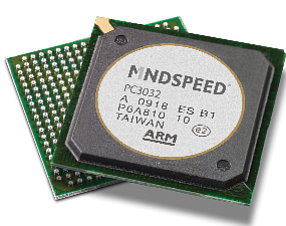 Shares of Mindspeed Technologies Inc. jumped Wednesday, a day after after the Newport Beach-based chipmaker reported a lower-than-expected loss in the March quarter and announced it is weighing a possible sale.
Investors sent shares up more than 18% in early afternoon trading to a market value of about $115 million on word that the company hired Morgan Stanley as a financial advisor "to assist the board of directors in evaluating various strategic alternatives."
Mindspeed makes chips for routers, switches and other networking gear.
The company reported mixed financial results for the March quarter after the close of trading Tuesday.
Revenue topped $35.4 million, up 1.5% from a year earlier and in line with Wall Street expectations.
Last month Mindspeed cut its revenue outlook from a previous guidance between $37.6 million and $39.2 million.
The chipmaker attributed the shortfall primarily to slower-than-expected deployment of 3G small cell base stations, which allow wireless carriers to boost traffic capacity and improve data-transfer rates at office buildings, stadiums and other venues within a smaller, dedicated area.
Chief Executive Raouf Halim reiterated those 3G concerns after the quarterly report.
"We have had to reconsider our views of how and when that market will develop," he said.
Mindspeed reported a net loss of $978,000 in the recently ended quarter, beating Wall Street estimates.
Analysts on average had forecast a loss of $1.6 million.
The company said revenue in the current quarter is projected to be flat from the March quarter, in line with Wall Street's adjusted expectations.