Costa Mesa Ad Shop Lands Scooter Account
Tuesday, June 4, 2013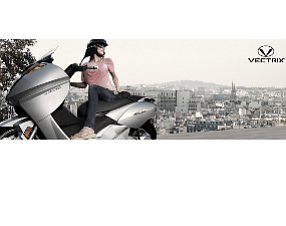 Costa Mesa-based advertising agency Blue C has been named agency of record for the Vectrix brand of electric scooters in the U.S. and North America.
New Bedford, Mass.-based Vectrix designs and manufactures various all-electric models with ranges of 25 miles or more and the ability to accelerate from zero to 60 mph in as little as eight seconds, according to the company. Privately held Vectrix doesn't disclose financial data.
Blue C will take on advertising, public relations, social media and other duties in advance of the launch of the Vectrix VT-1 model, which is expected in coming months.
"The Blue C team understands our mission, our passion and our products," said Brian Buccella, Vectrix's vice president of sales and marketing, who said the agency will be able to "integrate brand infusion strategies in key markets through their contacts in industries from action sports to music and major media."
"It's a big deal for us as a marketing agency," said Eric Morley, cofounder of Blue C. "Vectrix is a company whose ideals and passion are very similar to those of Blue C, and helping them achieve their mission is our job."
Blue C's other clients include Monster Energy Drink in Corona, Newport Beach-based developer The Irvine Company, and the Juice It Up chain, which is based in Irvine.