IRVINE COMPANY SEES 5 MILLION MORE SF OF OFFICES, 20,000 NEW JOBS
Full Spectrum
Sunday, June 2, 2013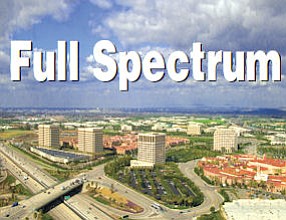 The Irvine Company has proposed a major dose of office development in anticipation of nearly 20,000 new jobs that are expected to come to the fast-growing area of the Irvine Spectrum over the next five years.
Close to 5 million square feet of new office space, including a pair of towers, has been eyed for the area in and around the Spectrum, according to Irvine Co. marketing documents.
The Newport Beach-based real estate owner and investor is considering office developments on up to nine different land sites, with a mixture of low-rise office campuses and high-rise buildings, company documents show.
The two proposed office towers could each run as large as 446,000 square feet—nearly 80,000 square feet larger than any other tower in the immediate area—while the largest low-rise campus could top out at a little more than 1.2 million square feet, documents show.
Some of the projects could be built "over the next several years," according to the company.
The office plans, along with proposals for new home and apartment development in the area, were detailed in marketing materials that Irvine Co.'s retail division prepared in April for prospective shopping center tenants in the area.
A specific time frame for any of the individual office projects moving ahead hasn't been disclosed by Irvine Co., the dominant real estate firm in Orange County and the state's largest office landlord.
The company owns nearly 500 offices in California totaling about 38 million square feet, with OC its largest market.
Company executives said last week that a time frame for the bulk of any new office development likely is a few years further out than its marketing materials suggest—unless a specific tenant signs up for a build-to-suit project on any of the sites.
"We are a planning company, and this is part of our near- and long-term planning, which will be influenced by market demand," said Irvine Co. spokesperson Mike Lyster. "Our planning builds on the Irvine Spectrum as a place to live, shop, work and play. Future projects will enhance Irvine Spectrum's options for residents, businesses and shoppers."
Fast-Growing
The proposed developments, if they all move ahead, would have a huge impact on the size of the Spectrum's office market, which currently stands at nearly 10 million square feet.
Irvine Co. owns about 75% of the higher-end, for-lease offices in the Spectrum, according to data from the local office of Jones Lang LaSalle.
Prev Next