REAL ESTATE: ABOUT HALF OF BUILDING TO BE OFFERED FOR LEASE
Mark IV Envisions HQ, More at Koll Center Newport
Saturday, July 6, 2013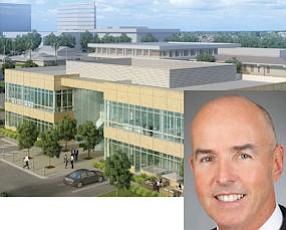 Mark IV Capital Inc. is moving ahead with plans for the first office to be built in the Koll Center Newport business park in more than six years.
The Newport Beach-based real estate investment and development firm recently announced plans to build a 21,311-square-foot office at 4450 MacArthur Blvd., between the Fairmont Newport Beach hotel and the Pacific Club.
The two-story office is planned to go up on space now used as parking, next to the nine-story Bank of the West building at 4400 MacArthur.
Mark IV officials said construction for the project should begin later this year, and the project should wrap up by the third quarter of next year.
It is expected to be the first new office to be built in Koll Center Newport since a 3,364-square-foot building opened at 4200 Von Karman in 2007. It will be the first new office construction seen in Newport Beach near John Wayne Airport in about three years.
The site was originally planned to be the headquarters of The Koll Co., the master developer of the 1.5-million-square-foot office park, in 2006, according to Mark IV.
Mark IV bought the half-acre site from an affiliate of Irvine-based Koll Co. in April for an undisclosed amount.
Privately held Mark IV is hedging its bets in terms of leasing out the new building, which will include underground parking and is set to be built to environmentally friendly standards and obtain LEED certification.
About 10,500 square feet of ground floor space will be offered for lease, according to the company.
Mark IV will use the rest of the building for its new headquarters. The company is currently based about a mile away at the 100 Bayview office complex.
Banks and brokerage firms looking for a highly visible location in Newport Beach are expected to be potential tenants at the building, according to marketing materials for the development.
"Not only does the location in Koll Center Newport incorporate a preeminent building site, but it also affords us the opportunity to construct a LEED certified building that addresses the collaborative needs of both our employees and business partners," Paul Cate, Mark IV's chief executive, said in a statement.
Irvine-based Ware Malcomb was awarded the core and shell architectural contract for the development, while the interior design contract went to H. Hendy Associates of Newport Beach.
Irvine-based Snyder Langston will provide preconstruction services, according to Mark IV.
Mark IV was founded in 1974 and owns buildings in California, Nevada, Colorado and Arizona.
Local properties it owns include a mix of offices and medical office properties, including the 101 Pacifica office in the Irvine Spectrum, as well as the Crossroads Corporate Center and Barranca Medical Center, on Barranca Avenue in Irvine.
It also invests in retail and industrial properties. The company said it is looking to acquire income-producing and value-added properties priced from $5 million to $40 million.