Chapman Law Gets Hands On Entertainment Law With Clinic
Students Work Pro-Bono, Get Experience on Low-Budget Films
Saturday, January 19, 2013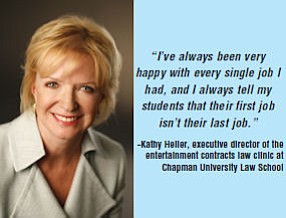 Entertainment law can be as dynamic as show business itself, and attorneys with clients in the entertainment industry need to stay abreast of the latest trends and regulations that are shaping the industry to best serve their clients.
That's the idea behind Chapman University School of Law's entertainment contracts law clinic.
"The creation and means of accessing media has changed considerably since 2007," said Kathy Heller, founder and executive director of the clinic. "When the students entering law school this fall graduate in three years it will surely have changed in ways we cannot foresee today. This means we are preparing students who will work on challenging new legal issues and many will likely work for clients that do not yet exist."
Chapman's law school is among several in the region that gives students a wide range of courses in entertainment law. Chapman's contracts law clinic stands out because it provides students with hands-on experience.
"To my knowledge, there's no other law school that has a clinic like this," said Ian Gibson, a 2010 Chapman Law School graduate, who is now an associate at Newport Beach-based One LLP, a boutique firm that specializes in intellectual property and entertainment law firm. "It's something truly unique."
Chapman's entertainment law offerings—particularly its clinic—drew Gibson to the school.
The entertainment law clinic gives its students hands-on experience by hooking them up with ultra low-budget student films—productions with budgets of $200,000 or less, according to Heller.
Filmmakers
Students in the program provide free legal services to budding filmmakers, helping them form a corporation, draft rights agreements, file for copyrights and draw up contracts associated with production. The students' work is overseen by entertainment attorneys with years of experience representing individuals and companies in matters involving film finance, production and distribution.
The program has been successful "in part because we communicate with some of the other parts of the school, including the film school and business school," Heller said.
Some of the other entertainment law courses offered at Chapman include: copyright law, film and television law, legal and business affairs in Hollywood, new media and the entertainment industry, negotiating and drafting media industry transactions, Internet law, music law and the music industry, and law, lawyers, and the legal system in film.
"We're always looking at opportunities to give students as much background as possible in an academic environment," Heller said.
Chapman law students were responsible for all of the production legal work on Targeting, a recently released independent film that tells the story of a female U.S. soldier who returns from Afghanistan and begins to run surveillance on an Afghani living in her hometown.
Prev Next