REAL ESTATE: PAST YEAR SAW TWO BIGGEST PROJECTS IN OC HISTORY
California Pacific's New Rank Applies to Apartments
Sunday, February 24, 2013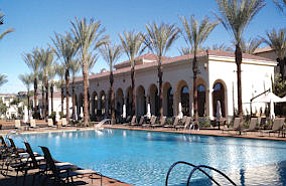 California Pacific's ties to Irvine Co.— now California's largest owner of apartments—have undoubtedly helped its transition into multi-family home construction.
The homebuilder, previously known as The Bren Co., was started decades ago by Donald Bren, chairman of the Irvine Company.
He sold the company in 2000 on undisclosed terms to his son, Cary Bren, who had spent two years as its president.
California Pacific built more than 2,000 homes in the county in the years after the sale, primarily on land purchased from Irvine Co.

The company stopped building when the housing market crashed, and effectively mothballed operations by early 2009.
It began taking on a few projects a couple years later.
California Pacific's future as a builder of single-family homes could change with the emergence of Irvine Pacific as the primary builder on Irvine Co. land over the past few years.
Flourishes
Still, it has brought some high-end flourishes typically seen in high-end single-family homes to the Los Olivos apartments, which stands out for more than its size, according to Kevin Baldridge, president of Irvine Co.'s apartment division, which oversees some 125 complexes and 44,000 apartment units.
The location on the old Wild Rivers site and various design elements make Los Olivos "arguably the finest apartment community we have ever built," said Baldridge, whose company has plans to add some 10,000 or more new apartments here and in Northern California over the next five or so years.
Units will offer kitchen islands with pendant lighting, stainless steel appliances, polished chrome plumbing fixtures, hardwood floors, ceramic bath tile flooring, and crown molding, among other features.
Elevators
There also are a few types of buildings that are new for Irvine Co. including some with ground-level parking and elevator access to the residences.
Monthly rents at the complex, which will count six salt-water pools, four fitness centers, and a walkway to the Spectrum shopping center, are expected to run from $1,650 to $2,950.
Irvine Co. officials estimate work at Los Olivos kept 650 workers busy on a daily basis at the peak of its construction schedule.
Prev Next