8 DEALS LAST YEAR, MORE IN WORKS FOR UNIVERSAL SERVICES
Plenty of Action on Acquisition Trail
Saturday, February 9, 2013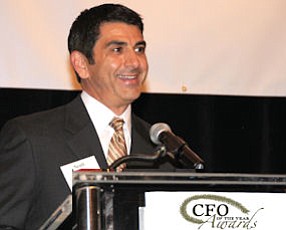 Santa Ana-based security and maintenance services company Universal Services of America has been a big buyer in recent years, expanding across the U.S. with a dozen acquisitions since 2010.
Last year was the peak for deals—with eight buys—and the company is now turning toward integrating the acquired companies, a mix of smaller, regional service providers.
That might "put the acquisition strategy on a little bit of delay," according to Chief Financial Officer Scott Savoie.
Just a bit, though.
Deals
Universal Services last week wrapped up its acquisition of Sacramento-based All Phase Security Inc. Another deal is pending, likely to close in the current quarter. Those transactions are expected to boost Universal Services' annual revenue to about $740 million, up from the current $670 million, according to Savoie.
That would mark another 10% boost in annual revenue, nothing new for Universal Services.
The company's revenue has grown fivefold in Savoie's seven years as finance chief. It is expected to have 30,000 employees by the end of the first quarter, with operations in 27 states.
Savoie was honored in the Private Company category at the annual CFO of the Year Awards presented on Jan. 29 by the Business Journal and the California Society of Certified Public Accountants.
Savoie joined Universal Services at the end of 2005, when the company only provided security services, with about $125 million in sales and some 6,000 employees in three states.
Among his first tasks was organizing a management buyout that saw the company's two founding partners turn operations over to Brian Cescolini and Steve Jones, the current co-chief executive officers.
The company soon made its first acquisition and began starting new subsidiaries.
"In 2008, we started up a janitorial company," Savoie said. "In 2009, we did a recapitalization. We brought in Caltius [Capital Management] to be mezzanine lenders for the company. That relationship then allowed us to have the capital we needed to go and start an acquisition strategy. Up until 2010, we were growing 25% a year organically. But then organic growth in combination with the acquisitions is what really propelled us to where we are today."
Subsidiaries
Universal Services now operates through various subsidiaries; its largest is Universal Protection Service, the security-guard unit, which accounts for about 90% of the company's total revenue.
The janitorial business, under the Universal Building Maintenance brand, operates in California and Arizona, and makes up about 6% of total sales.
Prev Next