Midday Stock Roundup
Monday, February 4, 2013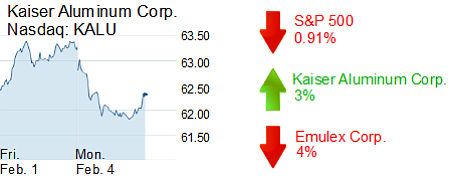 The S&P 500 fell 0.91% to 1,499 in midday trading Monday.
The Dow Jones Industrial Average was off 0.84% to 13,893, while the Nasdaq was down 1.17% to 3,142.
The yield on a 10-year treasury bond fell 1.79% to 1.97%.
The price of gold rose 0.29% to $1,676 per ounce.
Shares of Foothill Ranch-based Kaiser Aluminum Corp. were down 2% to $62 for a market value of about $1.2 billion. Kaiser makes specialty aluminum products for aerospace, engineering, automotive and industrial uses.
Costa Mesa-based networking equipment maker Emulex Corp. was down about 4% to $7, after closing down about 3.7% on Friday. Emulex, which had a recent market value of about $610 million, provided a revenue and profit outlook for the current quarter that fell short of analyst expectations.