Midday Stock Roundup
Friday, February 1, 2013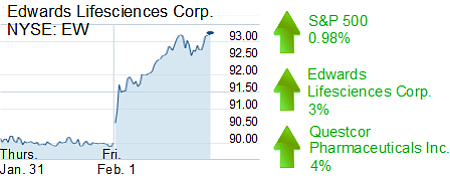 The S&P 500 was up 0.98% to 1,513 in midday trading Friday.
The Dow Jones Industrial Average rose 0.98% to 13,996, hitting the 14,000-mark multiple times in the morning on the U.S. jobs report. The last time the Dow reached 14,000 was October 2007.
The Nasdaq was up 1.20% to 3,180.
The yield on a 10-year treasury bond rose 0.10% to 1.99%.
The price of gold was up 0.61% to $1,672 per ounce.
Shares of Irvine heart valve maker Edwards Lifesciences Corp. were up about 3% to $93, a day after Philadelphia-based financial services firm Janney Montgomery Scott initiated coverage of Edwards Lifesciences on Thursday with a "buy" rating. Edwards had a recent market value of $10.7 billion.
Anaheim drug maker Questcor Pharmaceuticals Inc. was up about 4% to $27 for a market value of $1.5 billion.
Newport Beach patent licensing company Acacia Research Corp. rose about 4% to $27, a day after announcing its purchase of vascular device technology patents. Acacia had a recent market value of $1.3 billion.
Shares of Newport Beach-based specialty chemicals maker American Vanguard Corp. rose about 3% to $35 for a market value of $974 million.
Costa Mesa-based networking equipment maker Emulex Corp. was off about 10% to $7, a day after reporting mixed results for the December quarter and guidance for the current quarter that fell short of analyst expectations. Emulex had a recent market value of $622 million.
Shares of Tustin drug developer Peregrine Pharmaceuticals Inc. climbed 10% to $2 for a market value of $275 million.